Goalie equipment significantly contributes to your performance. The equipment selection, dressing and care about it are the important part of a goalie's life. Unlike other players, who just need the right stick and shoes, the goalkeeper must have many more stuff. This is why choosing the right equipment is so complicated. Goalkeeper puts himself in front of the ball, which can reach speeds of up to 200 km/h.
Nowadays there are a lots of different types of goalie equipment with different design, quality and different manufacturers. How to choose the best one? Answers to this question can be found in this blog post. Today we will focus on the most important thing - the goalie mask or helmet.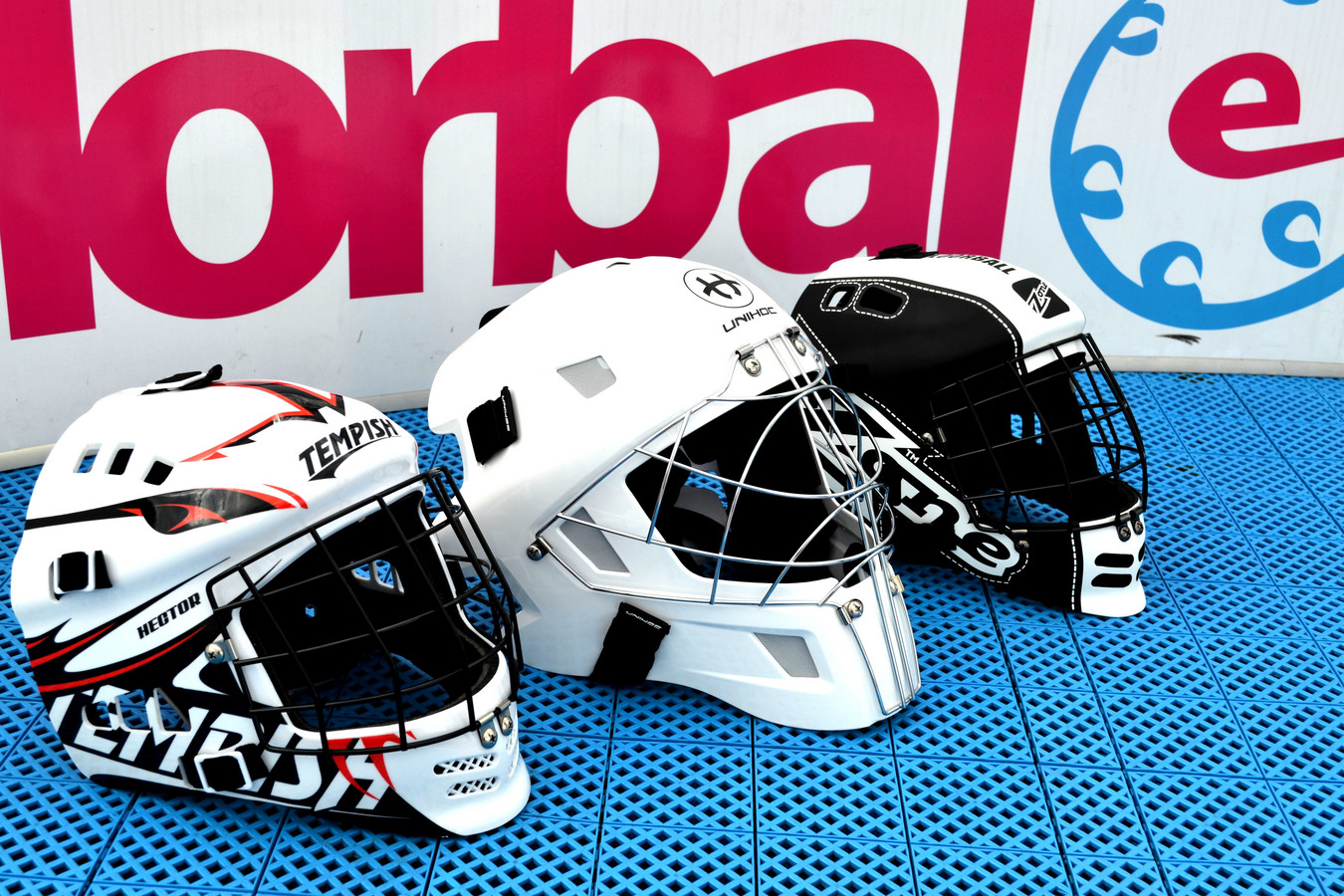 Junior, universal and senior mask.
How do you choose the right goalkeeper mask / helmet?
The goalie mask is the most important thing you need! Hitting a ball flying 200 km/h directly into your face is not pleasant. The mask must be worn not only for your safety, but also because of the official IFF rules.
A floorball mask must meet many requirements, but above all the floorball mask must meet the safety criteria. It must protect mainly your eyes and face. Don't worry, almost all masks meet these requirements today. If you want to be sure, The IFF certification will help you. The IFF certification guarantees that goalie masks are a safe product.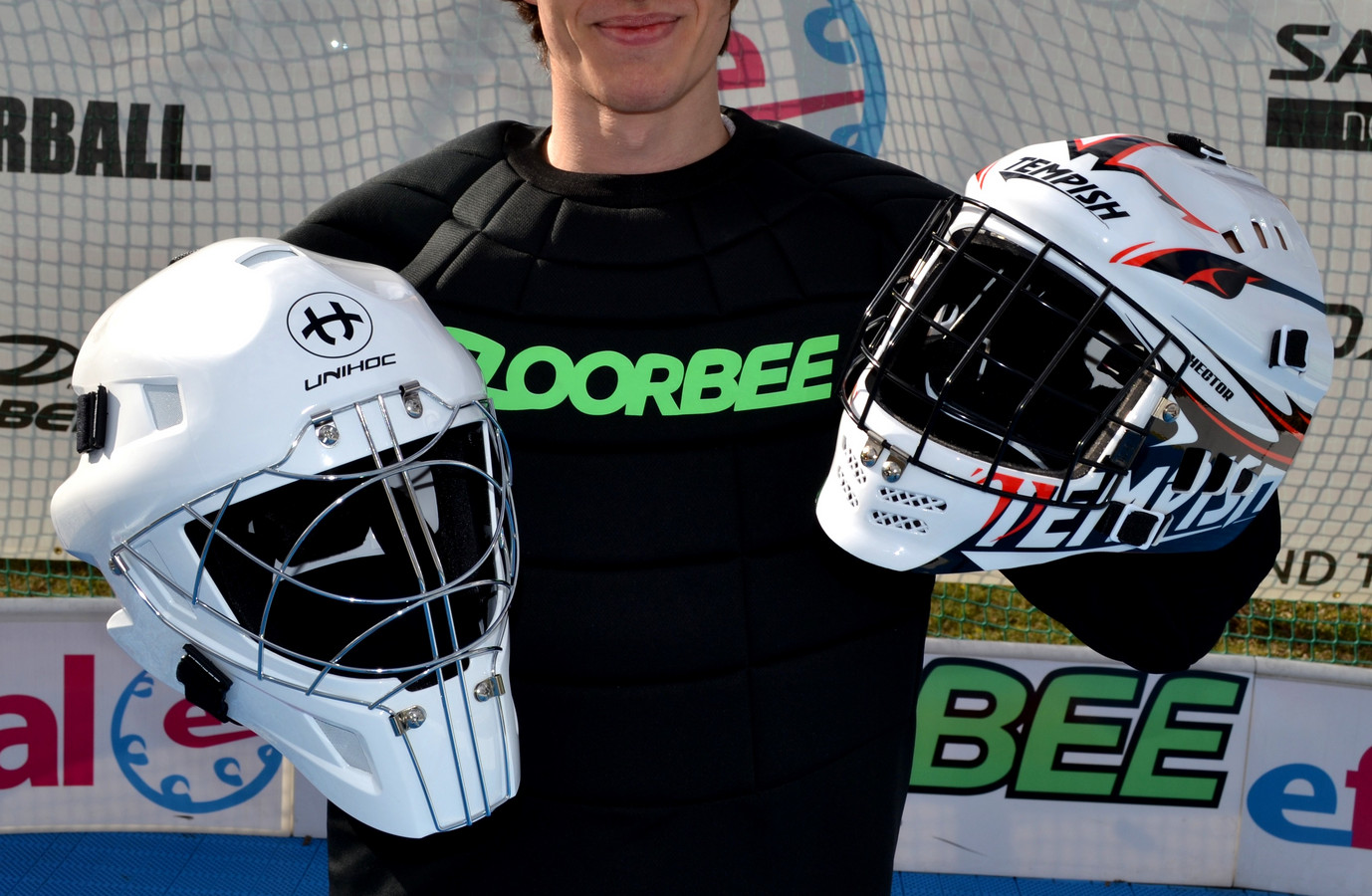 Difference between junior and senior mask.
Basic classification of floorball masks
There are two important aspects while choosing a mask: comfort and good visibility. First, let's focus on comfort. Only a mask of the right size will give you the comfort you need. So the first thing you should be interested in is the correct size of your mask.
By default manufacturers divide goalkeeper masks according to the maximum circumference of your head into:
So for the basic selection of the mask you only need a measuring tape to measure the circumference of your head and it's done.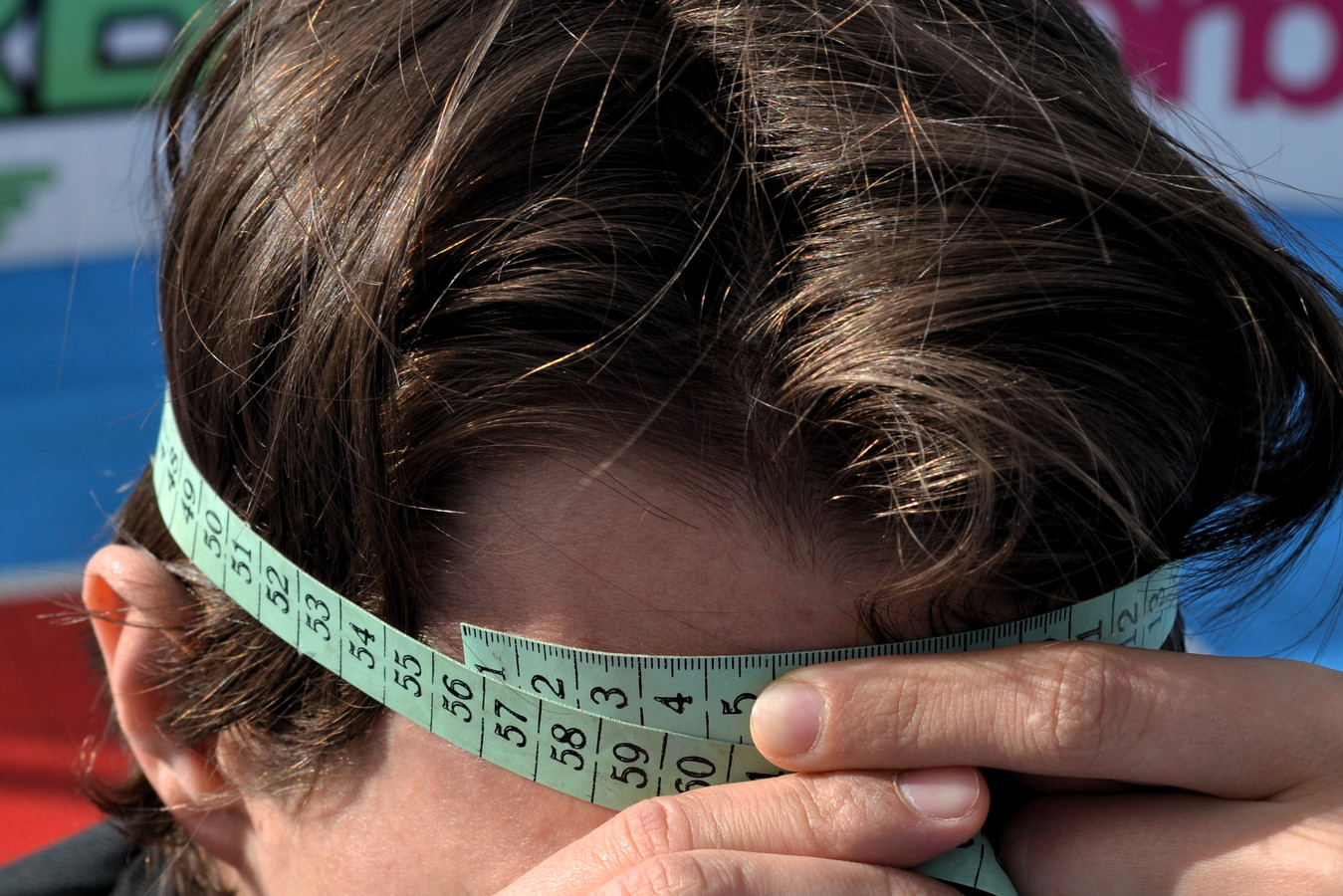 How to measure your head circumference?
Advanced classification of floorball masks
Unfortunately, this rule does not work for advanced mask selection. When you want to choose the right size of your mask, you have to consider more factors than just the head circumference. The difference between a junior and a senior mask is not only in its size. For example, a junior mask is cheaper, smaller and it has less security features. We will discuss all these aspects in today's article and help you choose the best floorball mask for you.
Junior floorball masks are smaller, although this is not the rule (for example, Tempish masks have the same size for both junior and senior masks). Junior masks are less comfortable compared to the senior masks because they have less padding inside the mask. As the padding is smaller, these masks absorb less sweat. This doesn't matter in lower age categories because the intensity of their training is not so high. However, in the case of more intensive training they cannot absorb all the sweat and the result is sweat in your eyes. This is not a good feature.
Junior masks do not have an extended neck, this is the basic shortcoming. As you grow, your neck also gets longer. So you need a longer chin part of your mask to protect your neck. For this reason we recommend the junior mask only for children under 12 years of age or you have to buy a neck protector. This neck protector is hard to find. It makes your movement complicated anyway.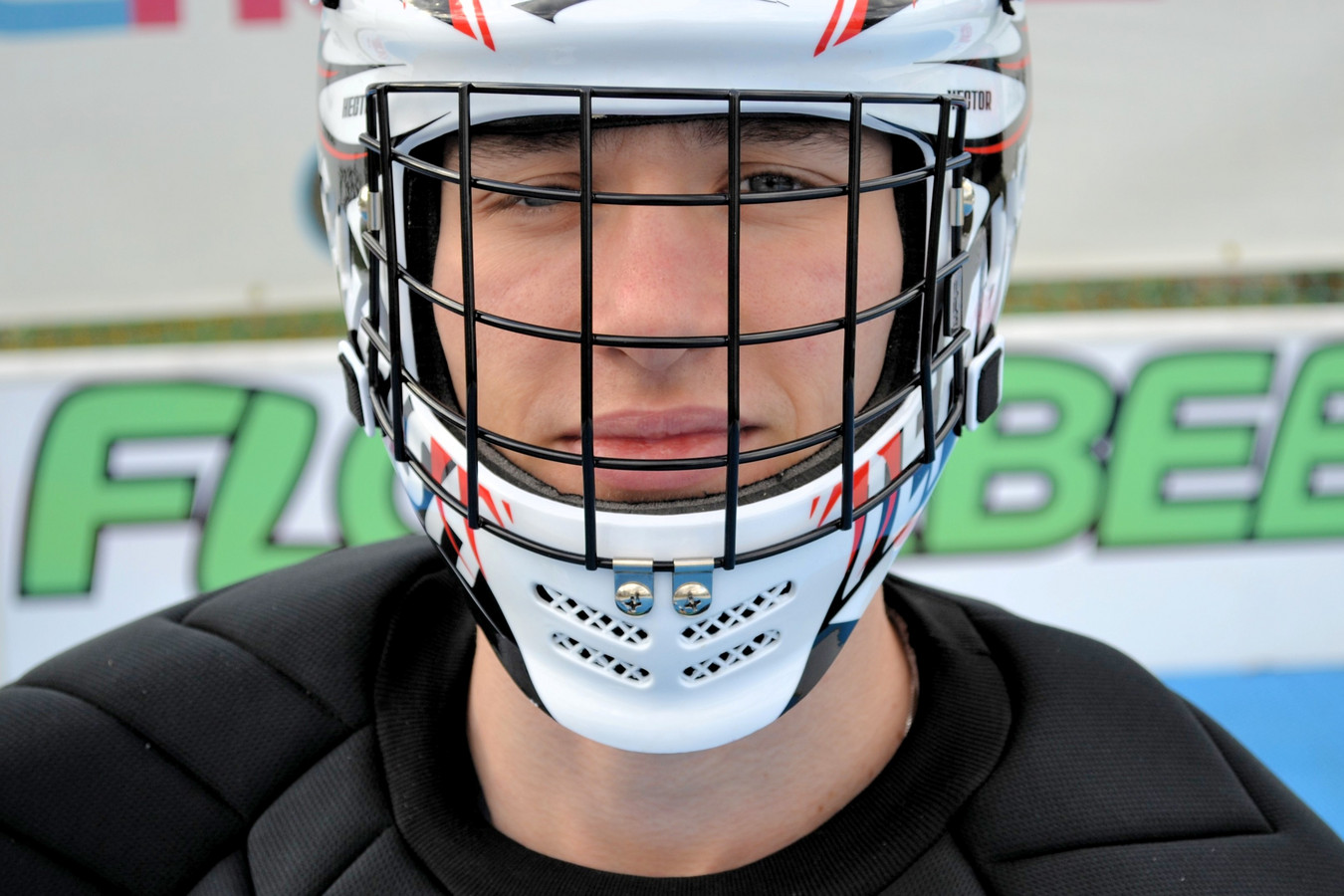 Junior masks without elongated chin.
Another element you will not find in a junior mask is a chin guard It is made of strong plastic and soft padding. It protects you from chin injuries and it is fixing your mask in the right place.
Universal masks are the combination of junior and senior masks. Basically, the manufacturer takes the junior mask, enlarges its size to senior size and it is done. Universal masks are characterized by:
no chin guard
no extended neck
less padding
Another important element that influences your comfort is the padding of the floorball mask. In terms of padding, there are only two types of masks on the market:
Usually cheaper masks are made without removable padding. Why are these masks less comfortable and you should pay extra for the removable padding?
You can simply pull out the padding by masks with removable pads It is not a problem if you were sweating in your mask once or twice. However if this is happening more often, the mask will start to stink. Trust me you don't want to play with this mask.
The padding is mostly connected with using Velcro. So you simply pull the padding out and throw it into the washing machine. You can replace the removable padding with a new one, when the old padding no longer serves well. Unfortunately, this is not possible with a mask without removable padding, so this is another advantage of removable padding.
Another important aspect that affects the choice of your mask is good view. The view from the mask is influenced mainly by its grid, which is made in two types:
Both types of grid meet safety criteria. This is confirmed by the IFF certification of both grids. The main difference between these grids is the view. Cat eye grids are designed to maximize the view, while the classic grid has less space for the view. We can't tell which type of the grid is better. It really depends on the subjective feeling. You should have a better view, if you choose the mask with the Cat eye grid. This is, of course, associated with a slightly higher price mask.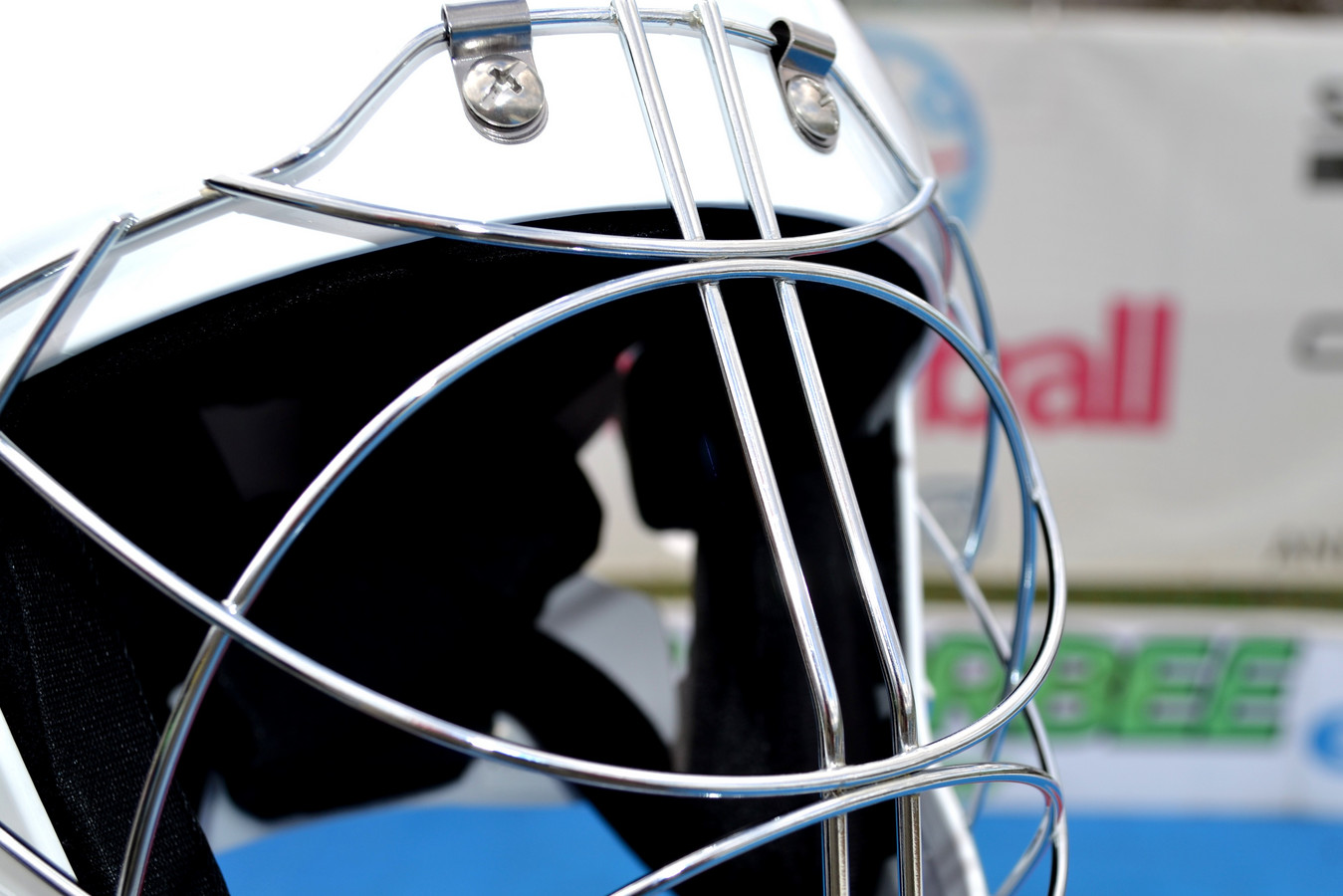 Cat eye grid for better visibility.
How do you know your mask fits you well?
99% of floorball masks will fit you well. Each mask has lots of soft foam padding so it adapts to you perfectly. The same applies to the chin protector. But how can you make sure your mask fits you perfectly? Easily! The mask has five rubber straps, which are attached to the mask using a metal patent All it takes is to reserve time and gradually tighten/loosen these rubber straps. It is a lengthy process, but in the end it will pay off because you will feel like you have no mask at all.
Final conclusion
There are 3 types of floorball masks on the market:
The difference between junior and senior masks is not only in their sizes. Junior masks have less padding, the basic grid and most importantly less security features. These safety features make the biggest difference between a junior and a senior mask. Your head circumference is enough to choose a floorball mask if you are a child under 12 or an amateur. Other players should consider all of the above when choosing a mask.
We have shown how to choose a floorball goalie mask. Just in case you are still not sure about the choice and would like to advise, do not hesitate to contact us at: info@efloorball.net , where we will be happy to advise you! ;-)