Runway 2.0 is a specialized floorball surface. This surface is smooth but does not slip. It absorbs shocks perfectly. It is a eco surface - no heavy metals, 100% recyclable, no wax, no polishes.
The basis of the FLOORBEE system is a 200 x 200 mm tile. The tile is flexible, pliable, sufficiently strong and resistant to damage. The individual tiles are connected by locks at the bottom of the surface. This tiles connected in this way give you solid and compact surface. You can simply adjuts the tiles with a hand saw, if you need a irregular shape.
Floorbee offers its RUNWAY 2.0 surface in 11 colors. There are for example: classic blue, red, but also black, white and the very popular menthol color. Anyway Floorbee can give you colors according to your ideas! All colors are lightfast.
Floorbee can offer you the whole range of the floorball playground equipment, such as floorball rinks, goals, nets and more. If you want to buy a complete floorball playground, Floorbee is the best choice. They will process everything, create a perfect price offer, and you can have a complete floorball playground without any worries.
Properties
Floorbee thinks of everything! RUNWAY 2.0 has a surface treatment that gives the surface unique properties - the floorball blade glides smoothly on the surface without scratched. The same applies to goalkeepers. With the RUNWAY 2.0 surface, no one has to worry about their equipment. This is a big difference compared to other surfaces!
Connect and disconnect individual parts using locks on two sides of the parts. Connect or disconnect the individual parts using adequate pressure in the lock. The whole surface resembles a large puzzle, which can be easily folded and unfolded whenever you want. Complete the whole surface 40x20m does not take more than an hour.
The benefits of the FLOORBEE RUNWAY 2.0
excellent game features
fast surface for dynamic sports especially floorball
protection the athletes health, prevents injuries
increases performance and reduces athlete fatigue
suitable for professional and hobby players
suitable for all ages and skill categories
vibration damping, anti-slip and insulating properties
long-term resistance to UV radiation
The price is for m², (25 pieces of tiles) the possibility to choose color combinations as needed.
Oversized product, the minimum price of transport from 6m2 is 7,- €.
This is a custom-made product that can not be returned within 14 days.
This item is produced upon request. Since this item is made to order, a deposit in the amount of the pre-negotiated sum is necessary.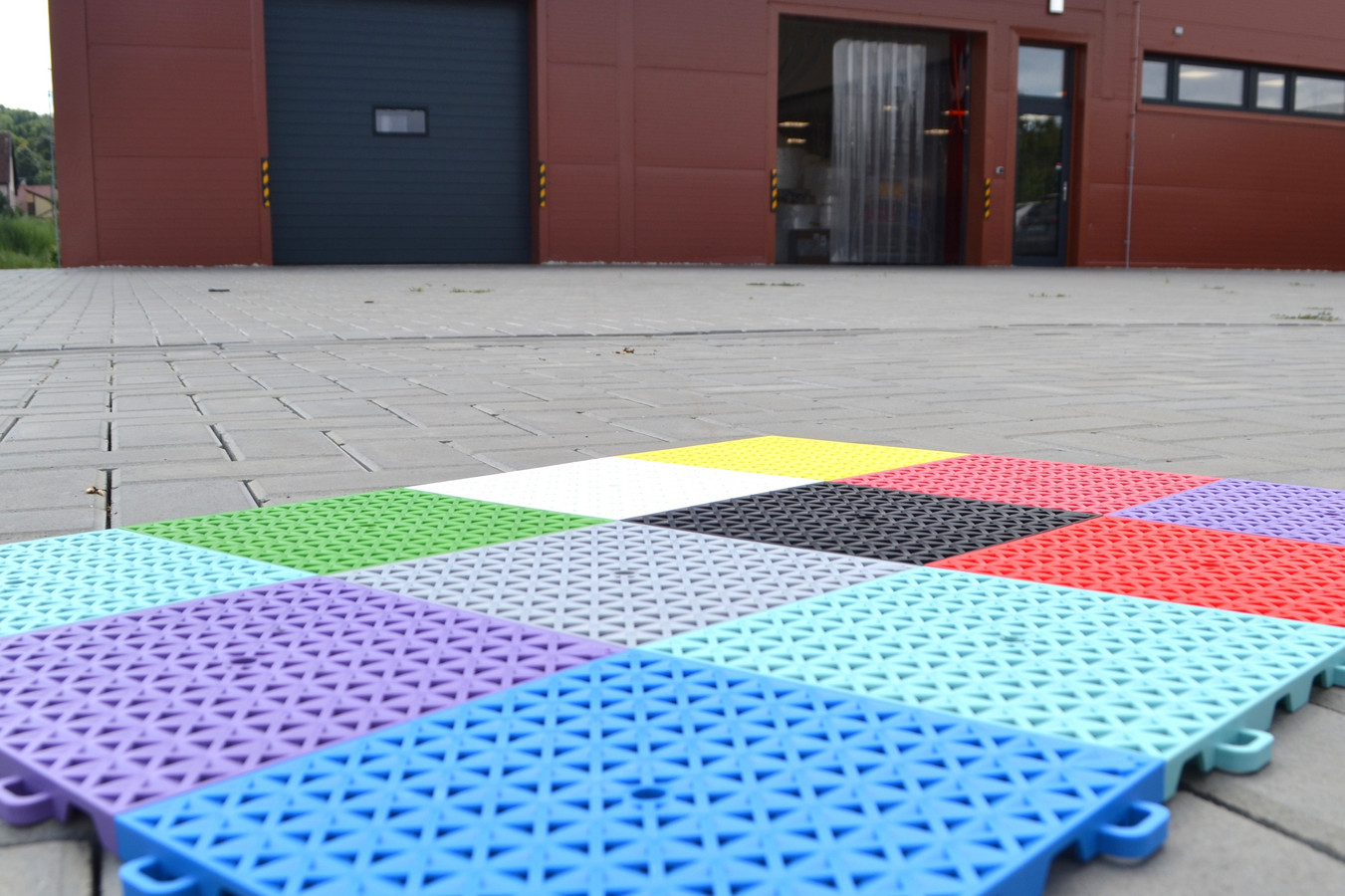 Example of expansion (elongation) at variable temperatures
xpansion: 0.0075 % at 1°C
Formula for calculating elongation: (0.000075 x floor length) x (temperature rise in degrees) Formula for calculating length after extension: Original length + Extension