No floorball player can play without quality indoor shoes! That is why we have prepared this article. Here you will learn how to choose indoor and running shoes. Shoes are the basic part of every floorball player's equipment. Shoes directly affect your performance! The size of shoes is the most important fact in the shoes selection. If you follow the procedure below, you will not make a mistake!
1) Foot size measurement
Lay a bare foot on a paper and draw the outline.
Take two furthest points from each other and make a vertical line to the edge of the paper (A dashed line on the picture below).
Put the ruler to the paper - the starting point 0 will begin on the first line. The second line will show us the measured value.
Add 0,5cm to the measured value (In sports leg flows a little bit, so foot must have space)
Remember or write down the final value
For example: Player's foot on the paper is 26cm long. We add 0,5cm to those 26cm, so the final value will be 26,5cm! We remember or write down this final value.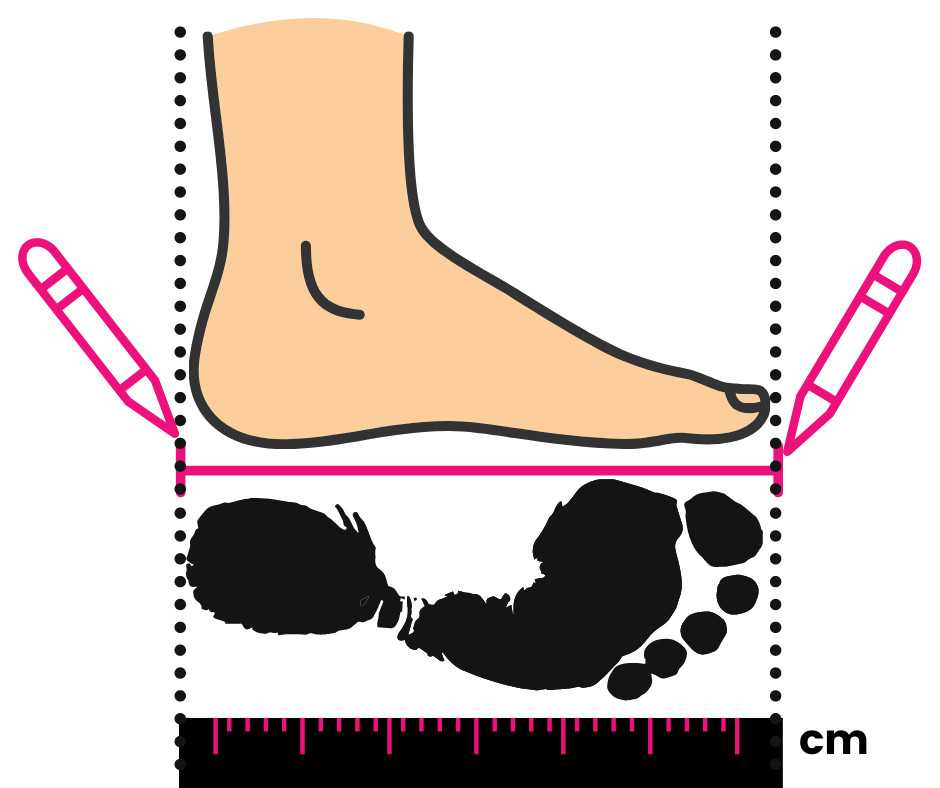 2) Shoes choice
Now choose floorball shoes you would like to purchase at our shop.
3) A correct shoes size choice
Jakmile si vybereš sálovky, které se ti líbí, tak přímo u produktu najdeš 4 různé velikosti(UK, EU, US, cm). Např. na našem příkladu potřebujeme velikost 26,5cm, což u sálovek Asics je velikost UK 7,5 = EU 42 = US 8,5. Takovou velikost si pak objednáme.
Once you choose the shoes you like, you'll find 4 different sizes (UK, EU, US, cm) directly on the product. E.g. in our example, we need a size of 26.5cm, which for Asics is UK size 7.5 = EU 42 = US 8.5 So you can order this size.
If you still are not sure, don't hesitate to contact us , we will be pleased to help you with a choice.
In case of ordering an incorrect size just read Changes and returns section, where you can find simple instructions what to do in this case.
Notice: Do not measure your feet in the morning because heet and activity may cause its outspread. The best time for measurement is in the evening.