Swanson Black Cohosh
Provides the necessary comfort during your menstrual cycle and menopause.
Benefits
Promotes hormonal balance
Promotes emotional and physical balance throughout the menstrual cycle
Helps ease the midlife transition into menopause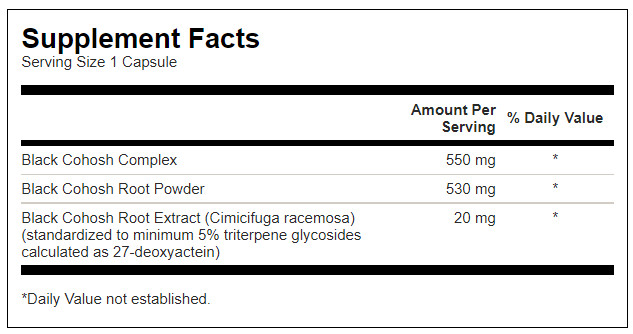 Suggested use
As a dietary supplement, take one capsule with water in the morning and one capsule with water in the evening.
Warning
Do not take this product if you are pregnant or nursing. Consult your healthcare provider before use if you are taking any prescription medication or if you have a medical condition. Discontinue use if you experience gastrointestinal discomfort.
Ingredients
Gelatin • Rice Flour • Magnesium Stearate.