Swanson Black Cumin Seed Oil
Dietary supplement for body wellness.
Benefits
Promotes total-body wellness
Supports immune health
Contains both omega-6 linoleic acid and omega-9 oleic acids
Key ingredient
Black cumin seed oil - daily supplement for total-body wellness support. Contains healthy amounts of the omega-6 linoleic acid and the omega-9 oleic acid along with all of the nutrients found in this amazing product.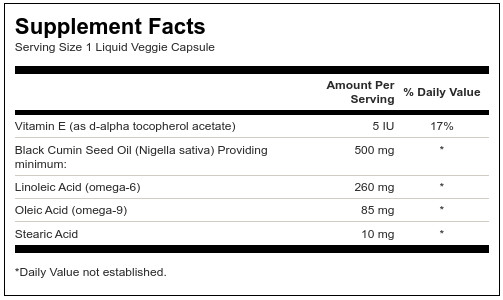 Suggested Use
As a dietary supplement, take one liquid veggie capsule one to two times per day with water.
Warning
Do not take this product if you are pregnant or nursing.
Ingredients
Hypromellose (Vegetable Capsule).