Swanson Green Tea Liquid Extract
1:1 Green Tea Liquid Extract.
Benefits
Provides antioxidant support
Alcohol& Sugar-free liquid extract
Holistically balanced to maintain the herb's natural components
Perfect for people who have trouble swallowing pills
Key ingredient
Green tea - is produced from the same plant as teas like oolong and black tea, but it's oxidized less during processing. The minimal processing and low level of oxidation means more of the fresh plant's natural components are retained - EGCG and antioxidant polyphenols confer health benefits.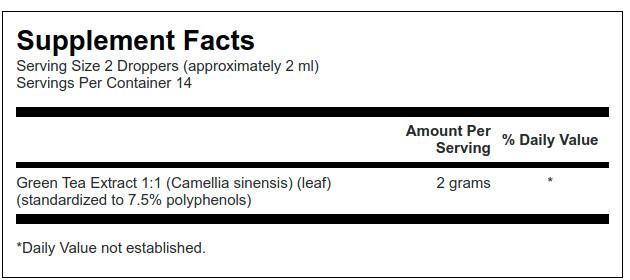 Suggested Use
As a dietary supplement, take 2 droppersful (approx. 56 drops) two times per day in a glass of water. Shake well before use.
Warning
Do not take this product if you are pregnant or nursing. Consult your healthcare provider before use if you are taking any prescription medications.
Ingredients
Vegetable Glycerin • Purified Water.