We are happy to bring you a stunning article full of exciting news from OxDog for the 2023/2024 season! This renowned floorball equipment brand known for its motto "Performance for everyone!" never ceases to amaze us with its innovative and high quality products. And now you have a unique opportunity to be among the first to buy them!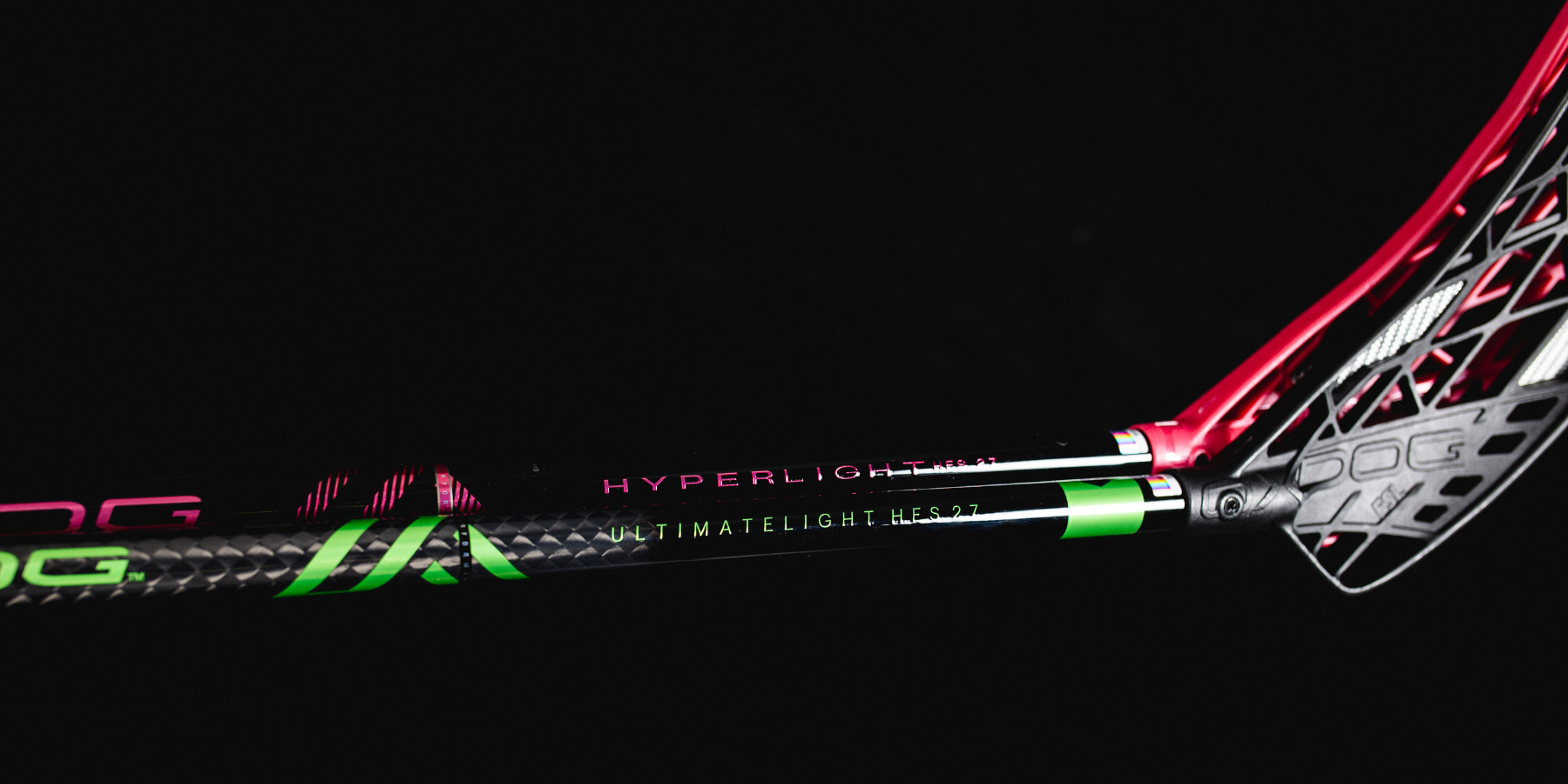 This season, the OxDog brand has focused on the development of technology and materials to offer you equipment of highest quality and to adapt to your needs on the field. And these are the innovations we now offer in our e-shop.
Our range of new products includes new types of floorball sticks, goalie equipment and other accessories to help you improve your performance on the court. You can choose from many different models of sticks with different blades that are made of lightweight and strong materials to offer maximum ball control.
Don't miss this unique opportunity to improve your floorball skills with new from OxDog. Choose the best products on our e-shop and enjoy the game like never before! Keep an eye on stock availability so you can be among the first to secure these high-quality and innovative products. The 2023/2024 season will be full of challenges and successes, and OxDog is here to help you every step of the way!
This is the designation of one of the highest class of clubs from OxDog. The shafts of the ULTIMATELIGHT HES are made of premium and lightest carbon - HighPressure carbon. To achieve the lowest possible weight, these clubs use a lightweight butt plug, wrap and lightweight blade. ULTIMATELIGHT sticks are one of the lightest floorball sticks in the world. The ULTIMATELIGHT sticks are unrivalled in the world of floorball and are designed for players who simply want the best!
For the 2023/2024 season OxDog has chosen a new colour combination. The original colour combination of black and copper, which you can find for example on OxDog ULTIMATELIGHT HES 27 CO SWEOVAL MBC2 has been replaced by a combination of black and green.
The OXDOG ULTIMATELIGHT HES 27 GN ROUND MBC2 is the main shaft of the ULTIMATELIGHT HES series! This is the top shaft from OXDOG. The shaft is very light, at 96 cm it is only 181 grams. It is available in lengths 96 and 101 cm in 27 mm hardness. The shaft with 27 mm flex is still classified as a medium hard shaft. We would recommend this flex to advanced players. The ULTIMATELIGHT HES are built for extremely fast play. These clubs are the lightest and one of the strongest carbon clubs.
In this case, OxDog was also thinking of those players who prefer SWEOval possession. You can find a floorball with this grip here: OXDOG ULTIMATELIGHT HES 27 GN SWEOVAL MBC2. If you are interested and want to see more floorball sticks with this grip, check out all floorball sticks with SWEOVAL grip shape.
OxDog continues to create its most popular clubs. The OXDOG HYPERLIGHT HES 27 BR ROUND MBC is one of OxDog's lightest sticks and the largest new addition to the series this year. The floorball stick weighs only 183 grams and comes in hardnesses 26, 27, 29 mm. The HYPERLIGHT HES is one of the lightest and most durable clubs on the market. The cane is perfectly balanced! This makes ball control smoother and more fun. The Shaft is made of premium carbon fiber. The unique combination of lightweight components is truly something special that you won't find anywhere else. The clubs feature the aforementioned Optilight Carbon blade.
This season's color of the season is bleached red combined with black and it's no different with the HYPERLIGHT HES. With this color combination, you'll definitely be an eye-catcher on the field! If you haven't chosen a floorball from the ULTIMATELIGHT HES category, check out OXDOG HYPERLIGHT HES 29 BR ROUND MBC.. We have great news for junior players as well. You can find OXDOG HYPERLIGHT HES 29 BR ROUND MBC also in 92cm length. At the request of our players, OxDog has decided to add a 103cm length to this club.
OxDog continues the very successful Ultralight HES series of clubs - Ultralight HES Excellent design, instantly recognizable, clean look, this is this year's Ultralight HES series! The design and colors look elegant, just like you're used to. But there are a few new features here too. Especially in this series, you'll find the sticks in white with subtle gold elements. This white and gold combination is also used this season on FSL (FastShootLight) blades.
The sticks from the ULTRALIGHT HES series are the most popular floorball sticks on the market - these are the best sticks in terms of being light, high quality and not breaking as much as the previous 2 variants.
This excellent stick is adorned with FSL (FASTSHOOTLIGHT) CARBON 2. This is a very modern blade with state-of-the-art design, to which maximum functionality is added. As you may have already read - this blade fits all types of players. If you are interested and want to see more floorball blades with this blade, check out all floorball blades with FSL Carbon 2.
If you need a softer shaft, OxDog has prepared for you the OXDOG ULTRALIGHT HES 29 AU ROUND MBC2. Great news for oval shaft lovers. Both of these sticks can be found even with the OVAL/SWEOVAL shaft As you can see, the Ultralight sticks are truly for everyone!
Sense HES is the name of OxDog's lightweight 100% carbon sticks. The Sense HES sticks are lightweight sticks, although their weight is more in the middle weight category. The Shafty Sense HES will give you the perfect balance. As the name suggests, this stick is built primarily on HES technology. HES - or HIGH ENERGY SHAFT - is a unique combination of stick technologies that gives you an extremely lightweight, high strength yet faster floorball than a conventional stick.
The SENSE HES & LIGHT series can also be described as hobby sticks, i.e. they are transition sticks from amateur sticks to pro sticks. And what's new this season with these clubs? First of all new colour combinations. OxDog has chosen a dazzling black and bronze combination. These sticks not only excel in performance, but you'll also enjoy a great look that will catch everyone's attention. And that's not all! OxDog has also introduced extended versions with a length of 108 cm for these models. However, it is important to note that these extended versions are not approved by the International Floorball Federation (IFF) for official competitions. However, they are perfect for training and leisure play!
The clubs in this unique series are fitted with OxDog Optilight blades. The Oxdog OptiLight floorball blade is exactly what it is called, a truly light blade. Its weight is only 65 grams. But of course the emphasis is not only on weight, the OptiLight is also really good at controlling the ball. After all, that's why it was created.
In addition to the 29mm hardness, you'll also find clubs in this series with hardnesses of 27, 25 and 31mm, including three different grip types - Round, Sweoval and Oval. This makes it the most variable series of clubs for this season from OxDog.
OxDog introduces the revolutionary new OxDog Ultraforce series of clubs for the 2023/2024 season! This series is developed with one goal in mind - to provide players with a floorball stick that will completely change the game.
ULTRAFORCE is the name given to OxDog's new universal composite stick. These floorball sticks can withstand aggressive play, making them the ideal option for hobby sports. While these sticks are primarily designed for hobby players, their features make them a fan favorite among professional players as well.
This model, like all others in the series, is adorned with the Avox blade. Oxdog Avox is a floorball blade developed for shooting! The Avox blade is one of OxDog's best-selling blades and is recommended for all shooters, especially those who like to shoot drag.
If you need a harder stick, OxDog has prepared for you the OxDog ULTRAFORCE 27 TB ROUND MB. We have great news for oval grip lovers as well. Ultraforce floorball with oval shaft can be found here OxDog ULTRAFORCE 27 TB OVAL MB.
OxDog introduces this season's limited edition floorball sticks that are made for floorball enthusiasts. The Revenger is the name for one of the best hobby sticks on the market from OxDog. These sticks are a real treat and offer the best value for money. They are designed to meet the needs of every player, whether you are a beginner or a seasoned pro.
The Revenger series combines the lightness and flexibility from the Hyperlight with the strength and quality of the Sense HES series. The result is a floorball stick that will amaze you with its versatility and performance on the court. Oxdog has focused on making this limited edition stick cover as many players as possible, making it one of the best selling sticks on the market.
Unfortunately, OxDog will not offer you any new blades this year. Which is not a bad thing at all, considering that OxDog already has floorball blades for all types of players in their repertoire. This season, OxDog has built this season around blades in particular:
The Optilight/Optilight carbon blade can be found mainly in the highest class of clubs - Hyperlight HES. The Avox/Avox carbon and Razor/Razor carbon blades are used by OxDog across all series except Hyperlight sticks. The last blade Block is placed by OxDog in lower categories. Which may be because it is one of the oldest blades of the four. Either way, you can't go wrong with any of these blades!
Last but not least, it's worth mentioning OxDog goalie equipment This year's series of goalie equipment is based on last year's design. The Xguard goalkeeping equipment is very comfortable and durable professional goalkeeping equipment that will help you even in the toughest matches and training sessions. This year's Xguard line is tightly quilted, which increases its durability and longevity. Visually, they make the goalie look bigger. At the same time, it is very comfortable to catch. You'll find some very useful tweaks that increase the feel-good factor when catching while allowing you to fully focus on your performance. The pants breathe beautifully, are comfortable and allow for a professional performance.
Enter goalie paradise with the new OxDog goalie equipment series for the 2023/2024 season! This year's models are based on the design of last year's successful series, but with a new colour - bleached red that gives the equipment a beautiful and modern look.
The Xguard Helmet Cat Eye is a quality goalie mask designed for floorball players. This mask offers excellent protection as well as comfort throughout the game. It is made of durable material that protects the player from injuries and shocks.
The Xguard Helmet Cat Eye is designed with the safety and comfort of the goalie in mind. The mask features great fitting padding and adjustable straps that allow for easy adjustment to the size and shape of the player's head. The mask is also equipped with a net that protects the goalkeeper's eyes from the ball while not restricting his vision.
This mask is designed to meet the high safety and protection requirements of the goalkeeper while providing excellent comfort and ventilation throughout the game.
Overall, the Xguard Helmet Cat Eye is the ideal choice for goalies looking for a quality and safe goalie mask for their games and practices. With its durable material, padding and protective mesh, this mask offers excellent protection and comfort throughout the game. Order yours today and get the best possible protection and comfort during the game!
The goalie jersey is clearly one of the best and best looking on the market. The combination of lightweight and breathable materials takes the jersey to a whole new level. This goalkeeper jersey is made of high quality and breathable materials that ensure comfort and freedom of movement during the game. The ergonomic cut of the jersey is designed to allow the goalkeeper to be as mobile as possible and focus on the game.
The XGuard Goalie Shirt SR for adult players is not designed to provide protection to the player's chest, shoulders and elbows - it has no padding - but rather as a design garment for goalkeepers who prefer a lightweight and breathable material. By using stretch material with XRD® technology, this jersey allows the goalkeeper to move without restriction and maintain optimal body temperature during play.
Unfortunately, OxDog won't offer you almost no news in the area of bags and sacks this year. The bags, pouches and rucksacks continue to come in a very attractive black/white or black/orange design, where the OxDog logo is shown in white. These are very high quality products that are comfortable to wear. The bags are also cleverly designed for efficient use while having an attractive design.
The only new item in the 2023/2024 season is backpack OXDOG BOX BACKPACK. Thanks to its design and functionality, it will satisfy the needs of both beginners and experienced floorball players. The backpack is made of quality and durable material that will protect your belongings from damage. The backpack has a large space for all your things you need at practice. The straps are well padded and adjustable so you can adjust the perfect size for your comfort. The backpack also has a convenient handle on the top so you can carry it easily.
Let's not forget to mention that this model in black/orange OxDog OX1 STICKBAG continues to be one of the best selling and most popular floorball bags.
Today we have shown new collection from OxDog. If you are interested in something but not sure, don't hesitate to contact us at  info@efloorball.net , where we will be happy to help you! ;-)