McDavid 195 Ankle Brace With Straps
The McDavid Ankle Brace With Straps is designed to support and stabilize the ankle during various sports activities and physical stress.
The brace is made of high quality material that provides proper ankle support and compression. The material is very durable and resists wear and tear, ensuring a long lasting product. Thanks to the use of elastic material, the brace adapts perfectly to the shape of the leg while providing a comfortable fit.
The brace is equipped with straps that allow easy and precise adjustment of the level of support and compression. The straps are made of soft material that minimizes the risk of irritation or skin damage. The brace is suitable for a variety of sporting activities such as running, football, basketball, volleyball and more.
The brace is very easy to use and due to its design does not restrict the movement of the leg. The brace provides support and stability to the ankle, which helps reduce the risk of injury and speeds up the healing process in case of injury.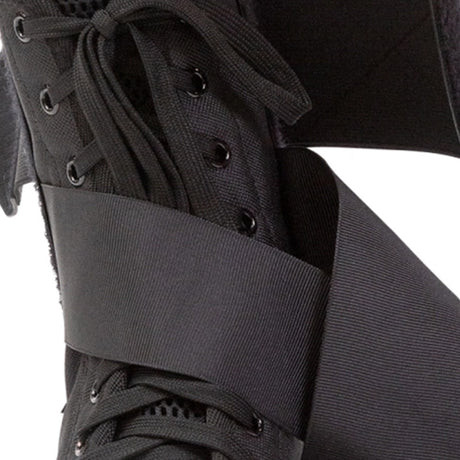 Benefits
Helps prevent and/or recover from common ankle sprains
Made of single layer polyester fabric for full support and minimal weight
Compression top strap for a custom fit
Fully adjustable without lacing or removing the shoe
Vented tongue breathes with you
Cushioned lining and reinforced closures
Fits both right and left foot
600 Denier Polyester