Unihoc SONIC Bamboo 26 black/white
Used technologies
Bamboo - this bamboo shaped shaft is created with step power technique, bringing several advantages to the finished product. Its ingenious, yet simple construction makes it possible to create an extremely light shaft and still keep the strength of the flex. The fine-tuned balance of the shaft is extraordinary. Material: Air Pressure Carbon Fibre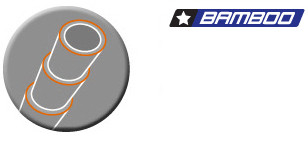 Blade
SONIC BLADE A technical slightly concaved blade (8mm). Tip of the blade is slightly pre-curved - ideal for the attackers using slap shots mostly. And also for that kind of players who like to pass and drible.
It's weight is 79g and it is made of the polyethylen.

Grip
Feather light - a grip Feather lightis lite, fits in hands superbly, it doesn't slip and absorbs a sweat well.It is not perforated - it means that it doesn't need to fit to everyone.