Unihoc ICONIC Supershape Curve 1.5º 35 blue/silver
Unihoc ICONIC Supershape Curve 1.5º 35 blue/silver
Supershape
New technology in the production of pressed sticks. This series is based on AIR MOLDING TECHNOLOGY. AMT technology is: By placing carbon fibers in a steel mold, heating them and shaping them by subsequent air injection. This allows you to shape shafts into very specific creations, such as EDGE CURVE, HOCKEY and OVAL LIGHT. This new technological process gives Unihoc a free hand in the production of sticks with different shaft shapes. You will now find shafts of the type:
Bamboo
Edge Curve
Curve
Oval Light
Straight Edge
Hockey
This technology is characterized by the structure: 95% carbon / 5% glass fibers and their weight is in the range: 215 - 230g.
Curve
CURVE is a stick technology that helps the player to shoot. This is a bend of the stick in its lower part, this bend of a larger angle of the rod towards the blade, which is reflected in greater dynamics of the shoots. In essence, the stick with this technology kicks the ball more vigorously and thus speeds it up. Curve thus improves shooting, but the precondition for playing with this technology is a 100% mastered technique of working with a stick.
Unihoc ICONIC Blade
ICONIC is a new pure shooting blade by UNIHOC. This is the most aggressive blade of all Unihoc blades! In the construction of this blade, Unihoc focused on optimizing the shooting characteristics sticks.
This blade has significant concavity (9 mm) across the playing area. It starts right at the heel and stretches to the tip. This concavity will improve your ball control. The ball holds on your blade like stuck. At the same time, will add more power to your shooting!
The blade has a heavily reinforced heel, so don't be afraid to shoot with force. To improve ball control, the blade is significantly pre-bent The bend begins at the heel, where it has 14 mm. It gradually increases to 15 mm in the middle and the tip returns to 13 mm.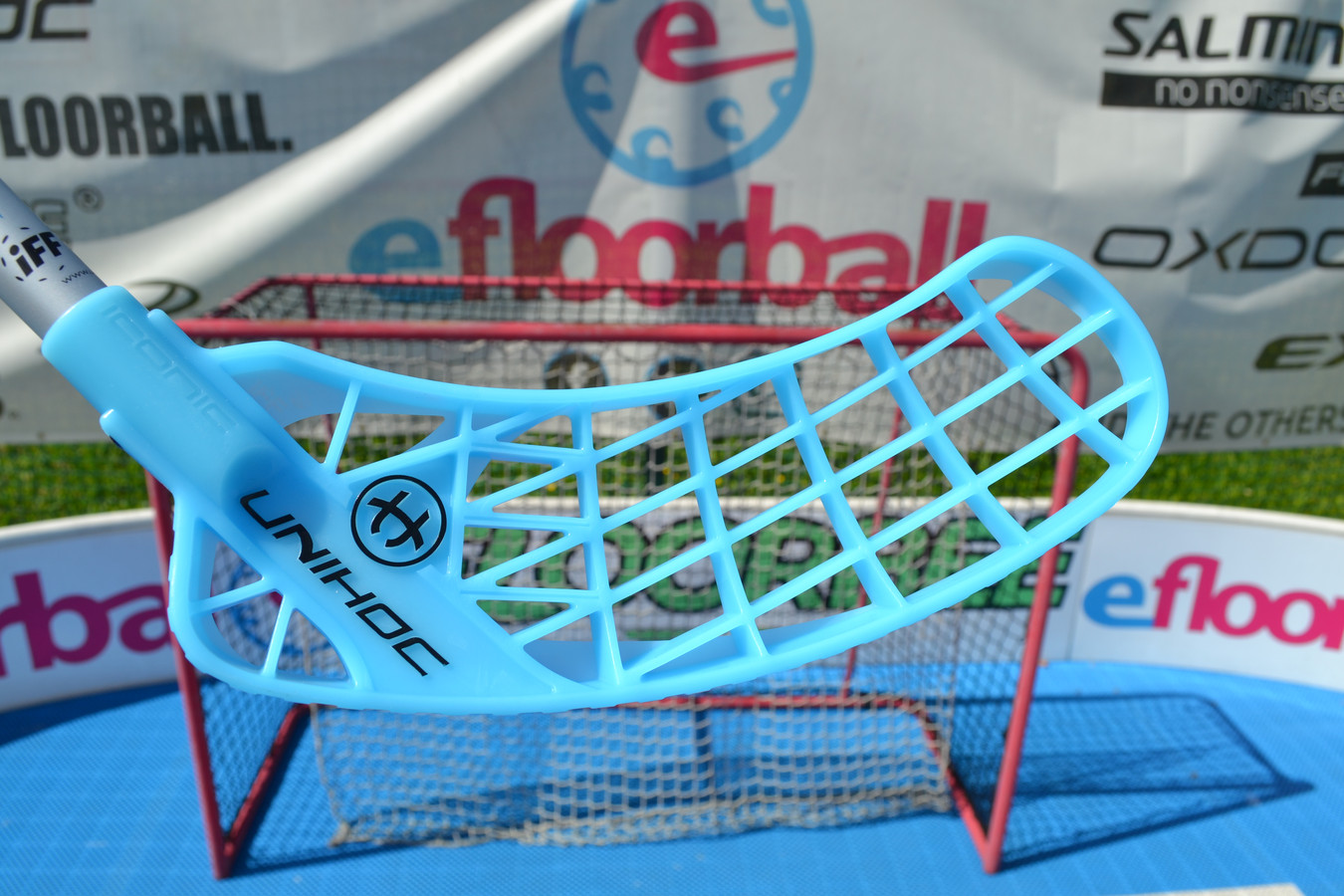 Supershape grip
Supershape grip is a very light and balanced grip that has great absorbent and adhesive properties.
Key properties:
Standard long grip
excellent anti-slip properties
extra long life
Choice of multiple colors
very comfortable grip with perforation for better sweat removal
very light
vibration absorption
Not perforated.