Zone floorball NEXTLEVEL unisex
Zone floorball Eyewear PROTECTOR Sport glasses
Floorball goggles protect the athlete's eyesight. Although the floorball ball does not look dangerous, it can cause corneal abrasions, rupture of the eyeball, or even irreversible damage to the eyes. In addition, the goggles perform a protective function even when hitting the elbows or shoulders during fights.
Protector goggles variant: 44435 black / red contains 3 pcs of slides:
dark lenses
holographic lenses
clear lenses
These floorball glasses have a narrower rim, so it fits you perfectly. The legs and rims are thinner than other Zone glasses.
These glasses have a half edge, ie the lenses do not have an edge in the lower part that would interfere with you. The legs are curved and are made of hard plastic, which copies the shape of your head. In the middle of the glasses, on the inside, the rubber beam is fastened with two screws.
The lens on the Zone Protector is clear and made of polycarbonate, a form of unbreakable plastic that is often used in aircraft windows. There are an eight ventilation holes in the edge of the lens, four on each side of the nose.
The legs are about 12 cm long and also made of hard plastic. These glasses have a pre-assembled neck strap. The neck strap is 1 cm wide with the Zone logo. The strap can be removed. The length is also adjustable with a pre-tensioned buckle.
Zone Protector is CE marked in accordance with EU standards for personal protective equipment. IFF approved.
Key properties
Floorball Goggles
Attached with flexible strap
Durable anti-fog glass
Very lightweight construction
Protective equipment certified by the International Floorball Federation IFF
Perfect protection even for the smallest
The glasses are made of durable plastic
Adjustable nose pads and shape for optimum air circulation.
An adjustable elastic strap helps keep them on the head.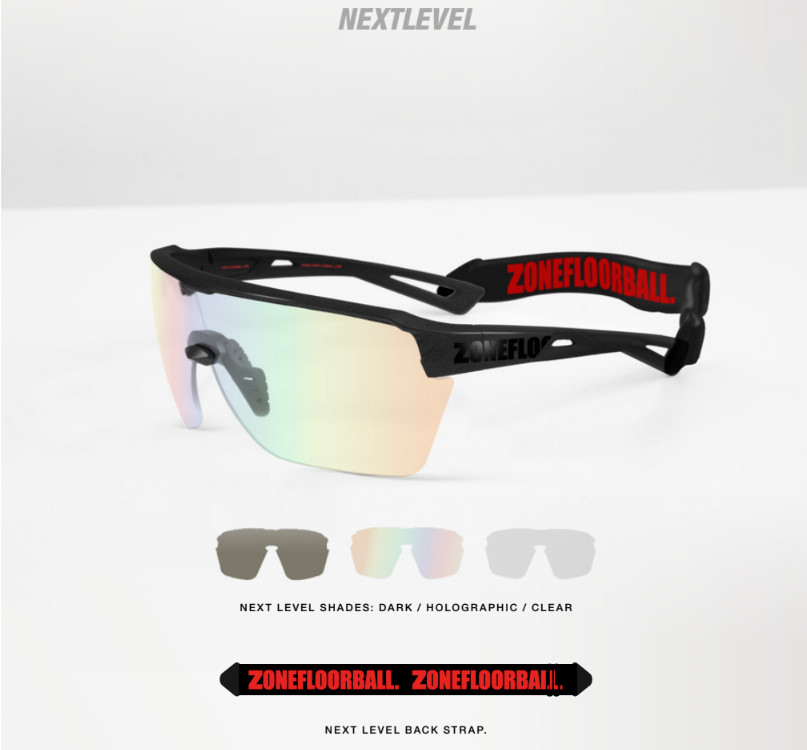 Warning
Flammable gas, aerosol, solid. Keep out of reach of children. Keep away from heat, hot surfaces, sparks, open flames and other sources of ignition. Don't smoke. Do not spray on open flames or other sources of ignition. Do not puncture or burn even after use. Avoid breathing dust/fume/gas/mist/vapour/aerosols. Protect from sunlight. Store in a well-ventilated place. Keep refrigerated. Do not expose to temperatures exceeding 50°C/122°F.