Swanson Liquid Calcium/Magnesium
An extraordinary combination for the health of bones and muscles.
Benefits
Contains the ideal 2:1 calcium to magnesium proportion
High concentrated formula for strong healthy bones and cardiovascular support
Helps maintain healthy blood pressure and glukose level
Calcium and magnesium are two very important minerals, which should work together
Provides the ideal proportion of those essential minerals – 300 mg calcium and 150 mg magnesium in each dose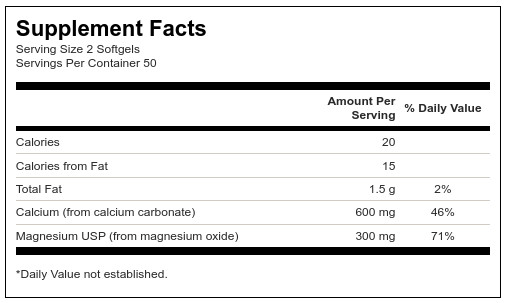 Suggested Use
As a dietary supplement, take two softgels two times per day with food and water.
Ingredients
Soybean Oil • Gelatin • Glycerin • Purifued Water • Soy Lecithin • Yellow Beeswax • Titanium Dioxide. Contains Soy.