Swanson Turmeric
A natural tonic for protection of the liver and the gastrointestinal system with curcuma.
Benefits
Features a high concentration of strong antioxidant curcuminoids
Protects the digestive system from the free radicals and keeps it healthy
Boost joint health, movement and physical function
Offers antioxidant support to neutralize free radicals
Support muculosceletal health
The key to turmeric's miraculous effect is the high concentration of natural compounds, known as curcuminoids, which possess powerful antioxidant ability
100 Capsules
30 Capsules
240 Capsules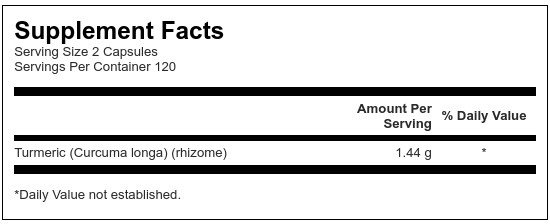 Suggested Use
As a dietary supplement, take two capsules once per day with water.
Warning
Do not take this product if you are pregnant or nursing. Consult your healthcare provider before use if you have or have had gallbladder problems. Discontinue use if you experience gastrointestinal discomfort.
Ingredients
Gelatin • Magnesium Stearate.