Swanson Albion Chelated Magnesium Glycinate
Dietary supplement containing magnesium.
Benefits
Helps build and maintain muscles and bones health
Provides high bioavailability mineral nutrients for the health of the entire body
Support nerve, muscle, bone and heart health
Patented mineral glysinate chelated form promots optimum absorption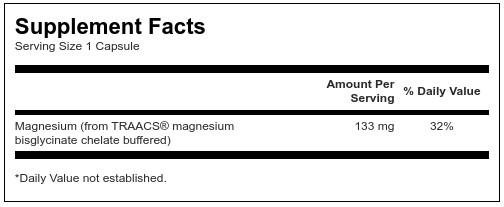 Suggested Use
As a dietary supplement, take one capsule three times per day with water.
Ingredients
Magnesium Oxide • Gelatin • Citric Acid • Silica • Maltodextrin • Microcrystalline Cellulose (Plant Fiber) • Magnesium Stearate.