Swanson Certified Organic Coconut Oil
Coconut oil extracted from certified organic coconuts.
Benefits
Supports cardiovascular health and blood sugar metabolism
Supports cognitive function and healthy brain development
Supports healthy skin, joints and connective tissues
Maintains immune health
Rich in medium-chain triglycerides
Contains lauric acid
Medium-chain triglycerides - they are rapidly absorbed by the small intestine and are quickly used for energy
Coconut oil - is a beneficial source of fatty acids, especially lauric acid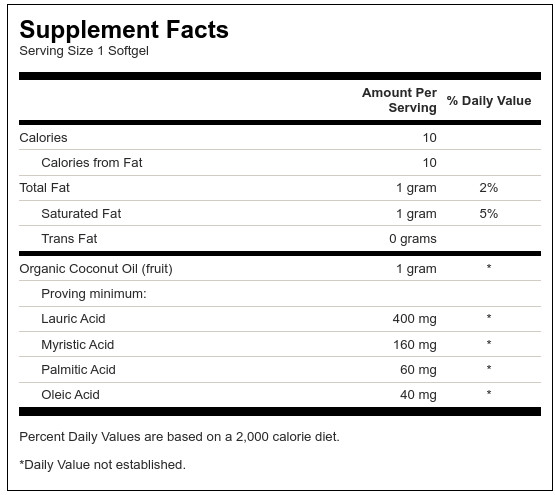 Suggested Use
As a dietary supplement, take one softgel one to two times per day with water.
Ingredients
Ingredients
Gelatin • Glycerin • Purified Water.
Storage
Store in dry place at room temperature. Do not store in direct sunlight or in the freeze.
Warning
Dietary supplement. Do not exceed the recommended daily dosage. It does not replace a varied and balanced diet and a healthy lifestyle. Keep out of reach of children. If you are pregnant, nursing, taking any medications, planning a surgical procedure, or have any medical conditions, consult your doctor before use. This product is not intended to diagnose, treat, cure or prevent any disease.
Country of origin
USA
Manufacturer
Swanson Health Products, 4075 40TH Ave S Fargo, ND, 58104-3912, USA