Swanson Artichoke
Supports healthy digestive function.
Benefits
Improves health of your stomach, liver and gallbladder
Maintains liver and digestive system health
Standartised to 2.5-5% caffeoylquinic acids
An extraordinary natural method of cleansing your body of toxins
May help support healthy lipid metabolism
Key ingredient
Artichoke - is one of the world's oldest traditional tonics for nourishment of this vital system. Extract is standardized to deliver consistent levels of caffeoylquinic acids.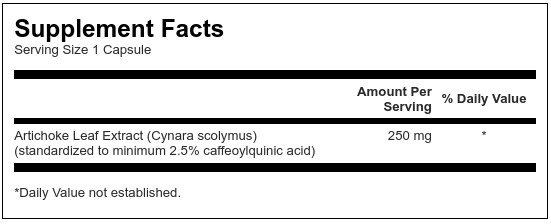 Suggested use
As a dietary supplement, take one capsule one to three times per day with water or as recommended by your healthcare provider.
Warning
Do not take this product if you have an obstruction of the bowels or bile ducts. Consult your healthcare provider before use if you have or have had gallbladder problems.
Ingredients
Gelatin • Microcrystalline Cellulose (Plant Fiber) • Dextrin • Calcium Palmitate • Silica.