Swanson Mangosteen Standardized
Powerful antioxidant support for immune health.
Benefits
ORAC rating higher than blueberries
Powerful antioxidant support
Key ingredient
Mangosteen - is known as "the Queen of Fruits" thanks to its excellent taste and health benefits. The secret to its powers lies in its remarkable profile of antioxidant phytonutrients, including polyphenols and xanthones like alpha-mangostin. Better than blueberries, more powerful than pomegranate, mangosteen has emerged as nature's premier antioxidant defender.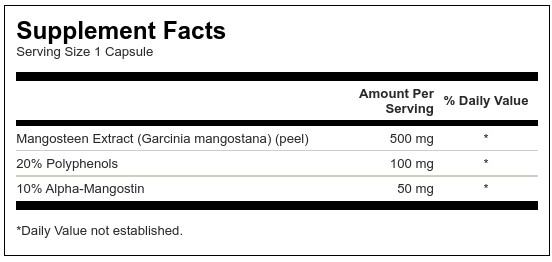 Suggested use
As a dietary supplement, take one capsule two to three times per day with water.
Ingredients
Maltodextrin • Gelatin • Magnesium Stearate • Microcrystalline Cellulose (Plant Fiber) • Silica.