Swanson Timed-Release Horse Chestnut
Excellent herb for promoting vascular tone, especially in the legs and extremities.
Benefits
200 mg of horse chestnut standardized to 20% aescin
A terrific vascular tonic
Horse chestnut features a unique compound known as aescin, which helps maintain blood vessel integrity to promote healthy circulation to the legs and feet and throughout the body
Special timed-release tablets that allow maximum potency with no stomach upset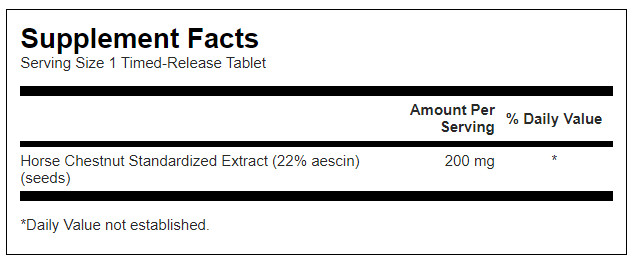 Suggested use
As a dietary supplement, take one timed-release tablet two to three times per day with a full glass of water. Timed-release gradually over 6–8 hours.
Warning
For adults only. Consult your healthcare provider before using this or any product if you are pregnant or nursing, taking medication or have a medical condition. Keep out of reach of children. Do not uise if seal is broken. Store in a cool, dry place.
Ingredients
Calcium Carbonate • Stearic Acid • Magnesium Stearate • Ethylcellulose Coated.