Life Extension Go-Keto MCT Oil Shape C8/C10
Flavored energy and keto support.
Benefits
Fuels the body with energy
Supports cognitive function by providing fuel to the brain
Provides sustainable sourced and palm free MCT drink with a natural flavor
Experiences pure performance and power of Ketosene® that is easily adorable and ideal for a low carb diet
Taking MCT Oil helps you to ease your transition into ketosis
It's the ideal energy source on your keto diet
Health Benefits at a Glance
Ketonese® serves the needs of those that wish to perform on higher levels and supports the body with more energy. MCT types C8 and C10 transfer into energy quickly and Omega 7 coming from Avocado and Macadamia nut oil transfers slower and thereby helps keep you satiated for longer.
The unique combination of palm-free MCT oil and Omega 7 promotes energy performance with a natural flavor. Use of MCT has many advantages, can help you stay in a fat burning mode.
Supplement facts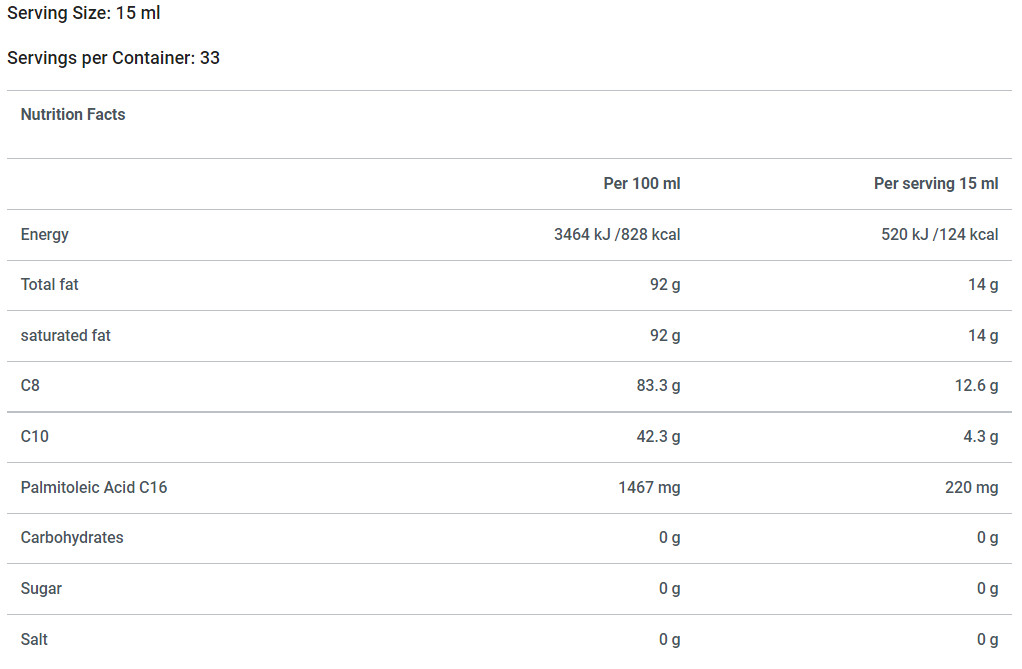 Recommended use
Start with 2 times a small (5ml) spoon a day. Increase your intake slowly to 2-3 table-spoons (15ml) of MCT oil per day.
Thanks to its subtle taste it's a treat to take a spoon full of it. If you wish, it can also be a great addition to coffee, shakes, salads or more.
Do not heat above 120°C. We recommend taking it at a minimum of half an hour before your meal.
Ingredients
100 % Pure Guaranteed Palm Free Coconut Mct Oil (Medium Chain Triglycerides) With 60% Caprylic Acid (C8) • 40% Capric Acid (C10) • Macadamia Oil • Avocado Oil • Lime Oil