Swanson Grapeseed, Green Tea & Pine Bark Complex
A powerful combination for a broad spectrum protection.
Benefits
Packed with polyphenols from green tea and proanthocyanidins found in pine bark and grapeseeds
Antioxidant support to neutralize free radicals
A potent combination of herbs for total body wellness
Promotes cardiovascular health
Maintains immune health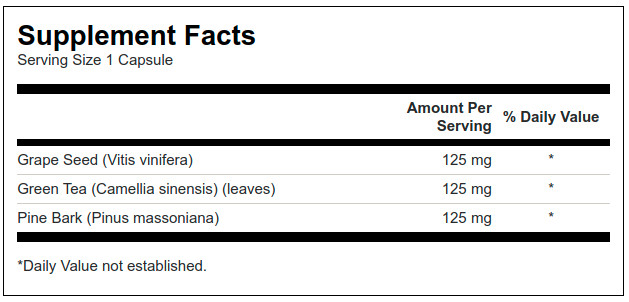 Suggested Use
As a dietary supplement, take one capsule per day with water.
Warning
Do not take this product if you are pregnant or nursing. Consult your healthcare provider before use if you are taking any prescription medications.
Ingredients
Gelatin • Microcrystalline Cellulose (Plant Fiber) • Calcium Palmitate • Silica.