Swanson Vitamin D3 Liquid Drops
Vitamin D3 Liquid Drops are the easiest way to supplement your vitamin D.
Benefits
Vitamin D dissolved in olive oil
400 IU per drop
Supports bone, immune and cardiovascular wellness
Promotes calcium absorption
Vitamin D is vital to healthy bones, strong immune system functions and mental/emotional wellness
In addition to the main route of synthesis of vitamin D (sun exposure) one can increase his/her blood levels by eating certain animal foods like fish and eggs and fortified dairy products
Supplementation of vitamin D is scientifically proved to be very effective for reducing the risk of: falls and bone fractures in the elderly, cardiovascular disease and related cardiovascular complications, colorectal cancer, breast cancer, blood pressure, all-cause mortality, catching the flu, multiple sclerosis, arthralgia
Vitamin D may also help with reducing: fat mass in people trying to lose weight, the incidence of asthma attacks, symptoms of tuberculosis
Is also effective for increasing the neural and muscular strength of the elderly and insulin secretion and insulin sensitivity in diabetics which leads to better glucose control
Vitamin D also increases testosterone levels in men which may help with maintaining healthy hormone levels during aging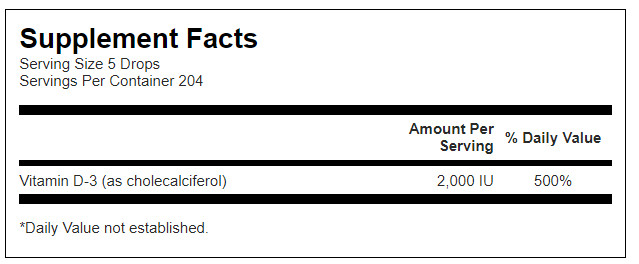 Suggested Use
As a dietary supplement, take five drops with a meal once daily or as directed by a healthcare professional. May be put on food or mixed with other liquids such as water or juice. Shake well before each use.
Warning
Consult your healthcare provider before use if you are pregnant or nursing, if you have a medical condition, or if you are taking any prescription medication. Do not exceed recommended dose. Keep out od´f reach of children. This product is not intended to be used by children due to its high potency.
Ingredients
Vitamin D-3 (As Cholecalciferol) • Olive Oil.