Swanson Royal Jelly Propolis Complex
One-of-a-kind immune system support.
Benefits
Combines the properties of bee pollen, bee propolis and royal jelly
Strenghtens the **immune system **
Provides energy support
Bee pollen and propolis plus royal helly at 6% HDA concentration
5:1 royal jelly concentrate
Key ingredients
Bee pollen - provides an energy boost.
Propolis - is also an excellent energizer, and it delivers powerful nourishment for the immune system.
Royal jelly - delivers an immune enhancer known as hydroxydecenoic acid (HDA), which reinforces the body's cellular level defenses. Strengthenes your body's defensive functions.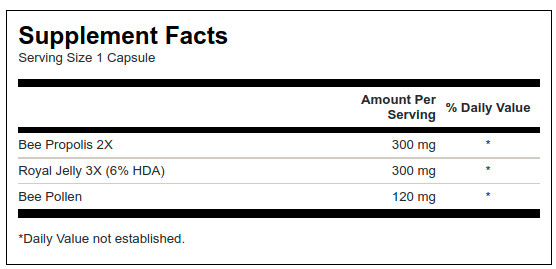 Suggested Use
As a dietary supplement, take one capsule two to three times per day with water.
Warning
Do not take this product if you are pregnant or nursing.
Ingredients
Gelatin • Carob • Calcium Palmitate • Silica.