Swanson Vitamin C Complex with Bioflavonoids
The ultimate vitamin C formula for maximum absorption and utilization.
Benefits
Features alkalizing minerals to boost absorption and bioavailability
Is guaranteed to deliver reliable vitamin C nourishment
With 500 mg of ascorbic acid per capsule from a proprietary buffered complex that includes zinc ascorbate and chromium ascorbate
Makes it easy to take high doses without stomach upset
Vitamin C exists in nature along with bioflavonoids, which helps support digestion and absorption of the vitamin
Provides 100 mg of bioflavonoids derived from oranges plus is adds an extra does of quercetin, one of the foremost bioflavonoids known to work synergistically with ascorbic acid
Because vitamin C is highly acidic, alkaline minerals are helpful in maintaining pH balance to further facilitate optimum absorption and bioavailability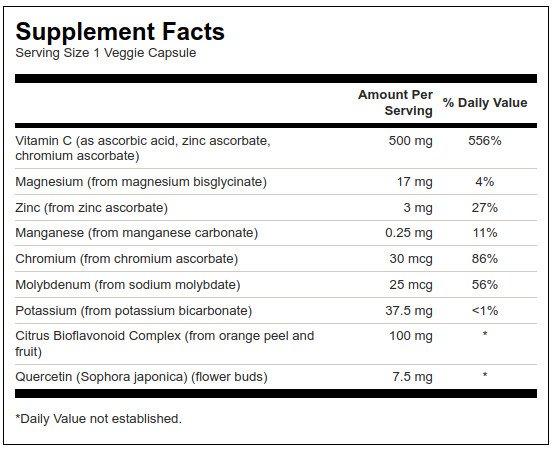 Suggested Use
As a dietary supplement, take one veggie capsule one to two times per day with food and water.
Ingredients
Hypromellose (Vegetarian Capsule) • Brown Rice Flour • Calcium Carbonate • Calcium Palmitate • Maltodextrin • Acacia.