FLOORBEE Goalie Armor set 2.0 black/blue with HELMET
The set consists of: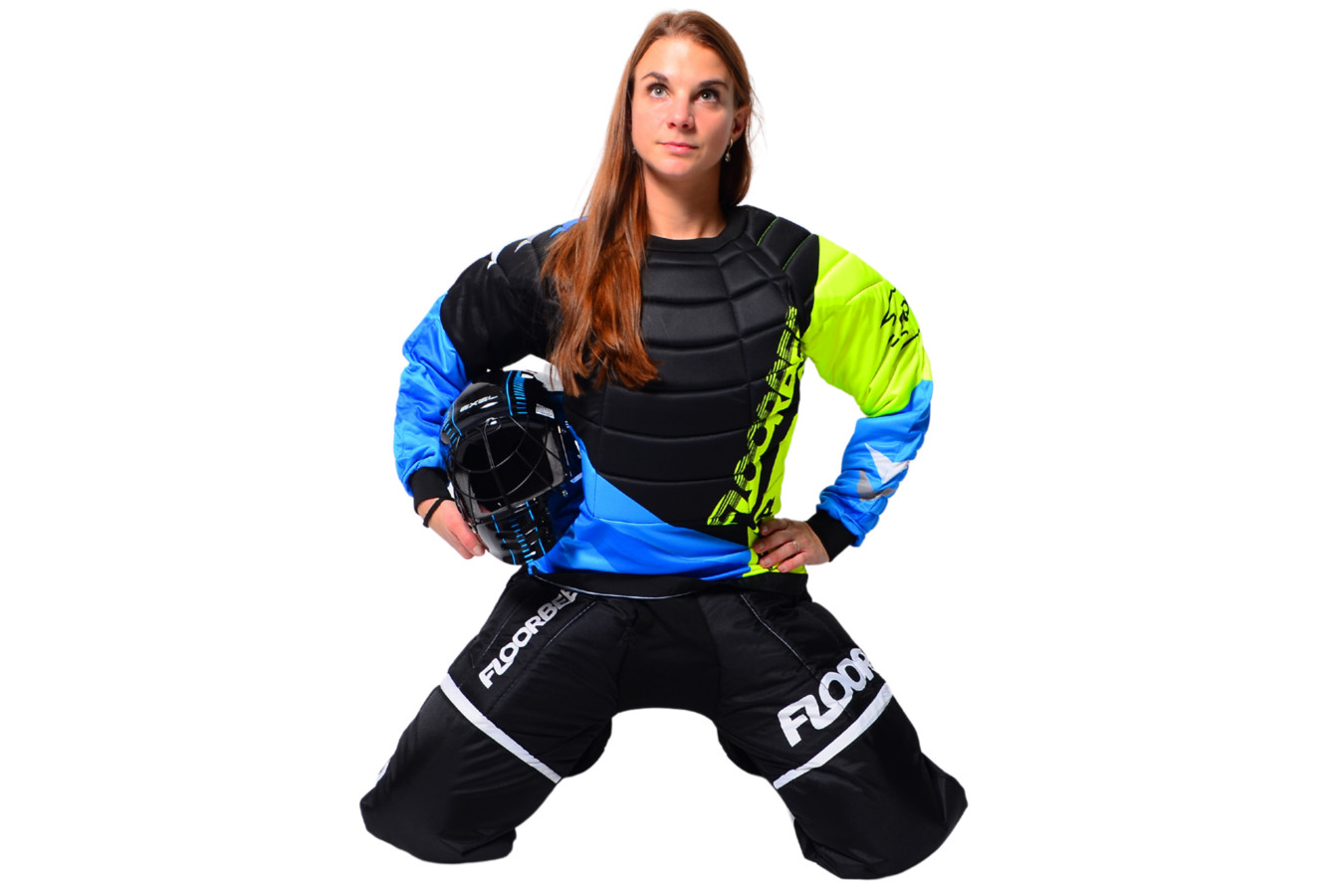 FLOORBEE GOALIE ARMOR JERSEY 2.0 - BLACK/BLUE
The Armor floorball jersey is an essential protective garment for floorball goalkeepers that combines excellent protection with comfort and convenience. This jersey was designed to provide goalkeepers with maximum safety while allowing them to perform well on the pitch.
Thanks to the light, flexible material used, you will feel in complete comfort, even during demanding matches. Special breathable material on the shoulders and back helps keep you cool and dry, which is key for long-term comfort during the game.
This jersey is equipped with ultra-dense padding on the entire front, sleeves and elbows, which provides excellent protection against bumps and shots from opponents. This padding is made of quality foam that perfectly absorbs any impact, increasing your sense of security .
The Armor floorball jersey is an ideal choice not only for beginners and intermediate goalkeepers, but also for school floorball teams. Its features and the protection it provides make this jersey an essential part of your kit.
Key properties
Pleasant material.
Ventilation material on the back and shoulders.
Padding in the front of the jersey, shoulders and elbows.
Material: 100% polyester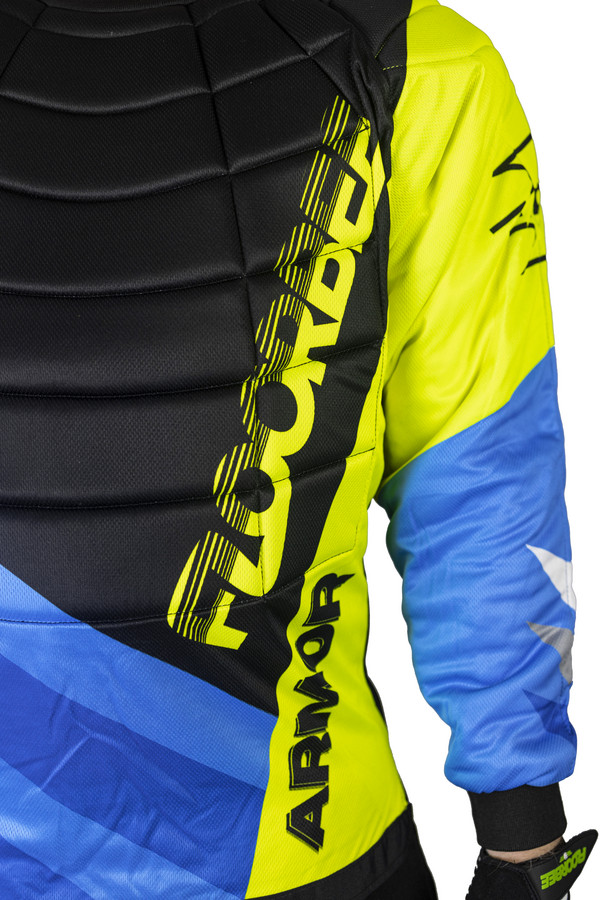 FLOORBEE GOALIE ARMOR PANTS WHITE/BLACK
FLOORBEE Goalie Armor is a high quality and very durable professional goalie pants ready for the toughest matches and training. They are double stitched, which increases their durability and longevity. They visually enlarge the goalkeeper and at the same time are very comfortable to play with. These pants have an elasticated waistband - both velcro and belt fasten the pants at the waist. There is great padding on the knees and hip area made of high quality abrasion resistant Cordura material, which ensures a longer life.
The crotch of the pants is equipped with a stretch knit, ensuring maximum freedom of movement. There is a Velcro fastener at the bottom of the pamts to unzip the them for easy adjustment of the knee pads. The Armor pants have a thick layer of padding on the front. They are made of a lightweight, strong yet breathable material.
Key Features
Double stitching.
Optical magnification of the goalie.
Fastening at the waist with Velcro fasteners and a belt with buckle.
Comfortable material.
Strong airy material.
Integrated hip protector.
Material: 100% polyester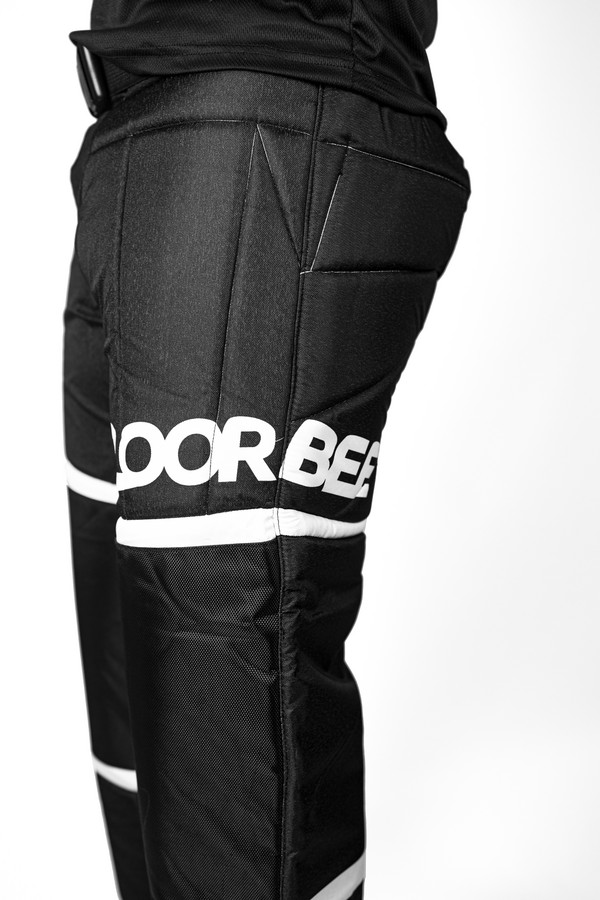 Exel G STAR HELMET BLACK
The G-Star Helmet from Exel is a basic junior goalie helmet designed with an emphasis on safety, comfort and performance. This helmet provides junior goalies with the necessary protection when playing floorball. The helmet's enhanced grille provides maximum facial protection while being perfected to obstruct vision as little as possible. The mask is made of extremely durable plastic and keeps the head safe when in contact with the ball.
Key Features
Protective System:The G-Star Helmet features an advanced protective system that provides high levels of shock and pressure absorption. This system protects the goalie's head from potential injuries and concussions.
Lightweight construction: The helmet is made of lightweight materials that minimize weight while maintaining high strength and durability. This allows goalkeepers to wear it comfortably and reduce fatigue during longer games.
The G-Star Helmet has an integrated ventilation system that ensures optimal airflow. This helps maintain the thermal comfort of the goalkeeper's head and keeps it dry even during intense play. It minimizes uncomfortable sweating and ensures comfort.
Adjustable features: the helmet is equipped with various adjustable features such as straps and padding to adapt to the size and shape of the goalkeeper's head. This allows for individual adjustment and ensures a perfect and secure fit of the helmet.
The G-Star Helmet has an integrated vision shield that provides wide field of vision and maximum protection for the goalkeeper's face. The shield is made of durable material that resists impact and improves overall safety.