The floorball brands are intensively preparing their collections for the next season.
The Curve technology has been developed to help players to improve shooting, especially when performing sweep shots. Curved sticks have the lower part of the shaft offset at a certain angle (1.0°, 1.5°, 2.0°, 3.0° a 5.0°), so the position of the blade in relation to the floor and the ball is the most effective. Its shape allows the player to hide the shots – especially sweep shots, behind the body, making it harder for the opponents o take the ball off the player. The curvature is also crucial for the speed of the shots.
Each brand has named the technology in a different way, but it works similarly.
TwinCurve - doesn't exist anymore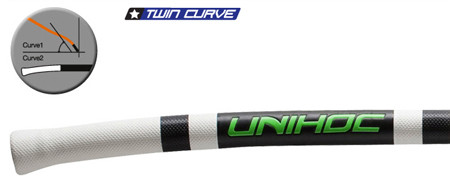 Unihoc was the first brand to release a stick with curve technology. This was in 2005.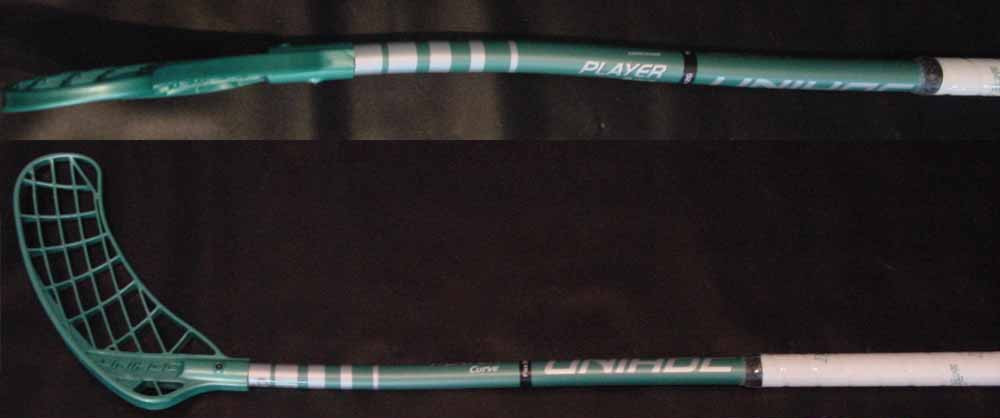 However, while the technology has its advantages and it also has disadvantages:
Advantages:
better angle on sweep shots - especially when you hide the ball behind the body
undercut lower part of the blade lets shots fly nicely under the bar :-)
Disadvantages:
most players find that the adaptation to this technology takes longer than usual
higher risk of breaking the sticks
eFloorball recommends the Curved sticks to the experienced players and players who like sweep shots. Usually it concerns wing attackers who are expected to score a lot. These players can hide the ball behind their body and surprise goalies from turn out. However, it should be noted that the attacker needs enough time for actually doing the sweep shot.
We do not recommend this technology to the younger players. Many young players are amazed by the curve, but they can't shot properly with this kind of technology. It is likely that the technology will do them more harm than good.
Our shop recommends to the defenders and middle attackers choose the straight sticks. With a curved stick (especially those angled more than 2.0°) it is harder to take the ball off your opponents. There are some exceptions as defenders with great sweep shots can use curved sticks, but in general we recommend straight sticks to this category of players.
Which types of Curved sticks will the brands been releasing for the upcoming 2017/2018 season?
Fat Pipe Bow, S-Bow
Fat Pipe continues with their Beat Bow sticks (flat curved shaft) and G-Bow sticks (lightweight curved shafts)
Salming TipCurve
Salming also continues with their TipCurve technology, which is less curved than the other brands' curved sticks. TipCurve is produced so as to have a different angles.
Unihoc Curve
Unihoc continues with the different curves, adding to their TeXtreme Curve series.  Most often the curves on this stick are is 1° or 2°. 3° are is a rarity.
Zone Curve
Zone follows Unihoc's steps, the highest degree of curvature is 2°.
Exel DoubleCurve
Exel Floorball canceled the DoubleCurve stick for the upcoming season.
OxDog Curve
OxDoG has decided not to release any curved sticks for the 2017/2018 season,
A general floorball trend goes to the straight sticks, eventually to slightly curved sticks. Players' habits are very individual and they differs by the level of skills. What kind of experience do you have? Share your thoughts and experiences with us on our social networks :-)