New goods from Exel, Unihoc, and Zonefloorball for this season were introduced in earlier articles. Visit our blog to read them if you haven't already. It's time to see what OxDog has in store for you right now. The company's guiding principle is "Performance for everyone!" OxDog strives to deliver goods that are the ideal fusion of technological advancement and practical performance. Every little thing matters, so they are concerned with every little thing! Now, let's check what's new for this season!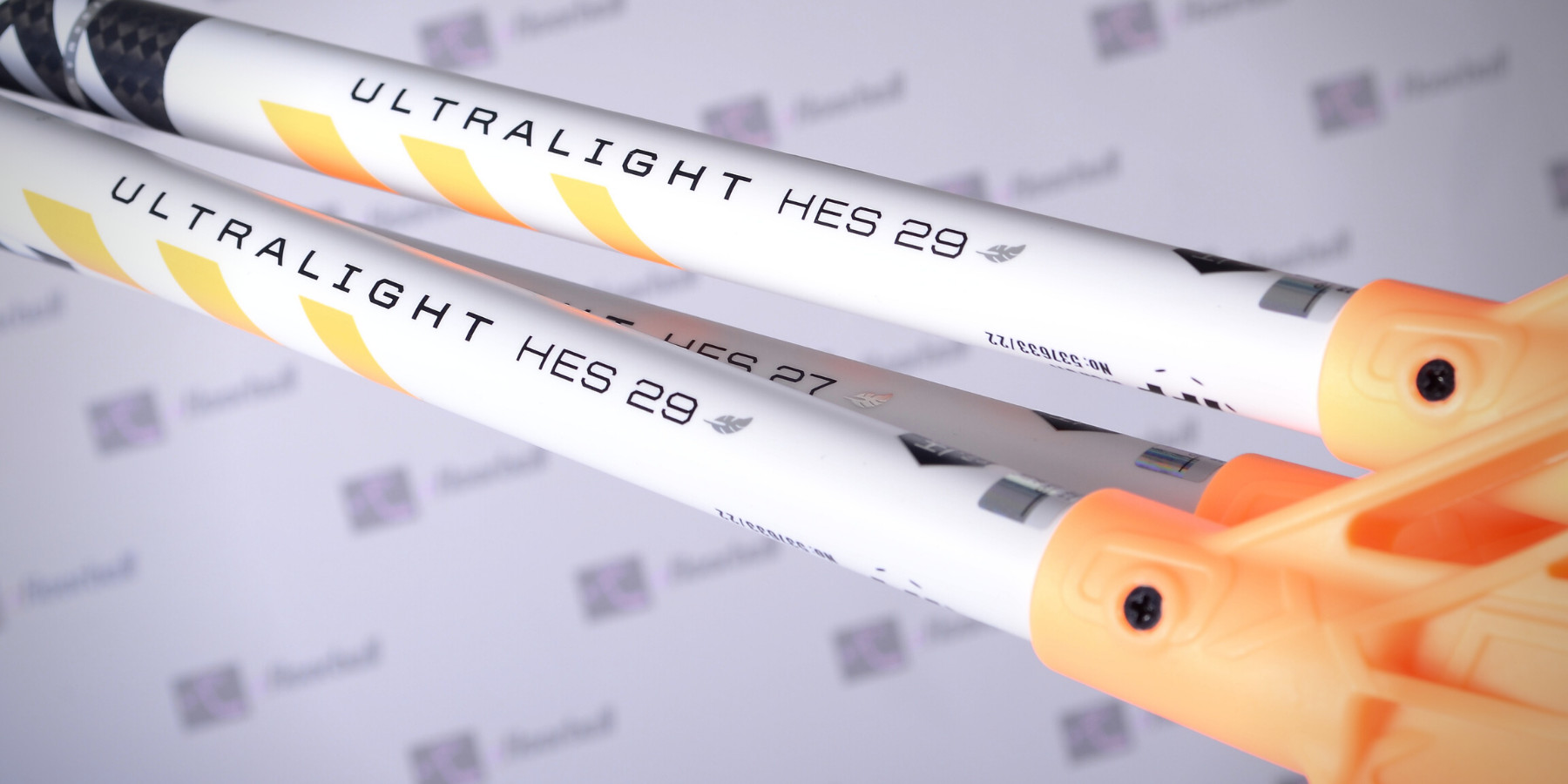 It is a light blade called the Oxdog FSL floorball blade (FASTSHOOTLIGHT). It barely weighs 68 grams. Of course, the weight is not the only consideration. The FSL blade (FASTSHOOTLIGHT) is great for ball handling as well. After all, that is the reason it was made. The blade of the Oxdog FSL (FASTSHOOTLIGHT) features a 9.5 mm concave. From the heel to the tip, the cavity is present. Pre-bending extends to the whole blade. This pre-bend begins prior to the middle rib and progresses to the blade's tip. The tip has a very small downward and inward bend.
Based on Oxdog OptiLight, the ribbing, bottom edge, and tip were created. With this blade, ball handling is significantly simpler, and shots are more precise. The blade has excellent stiffness thanks to the ribbing we just described, which allows it to transfer energy to the ball effectively. This blade gives you fast and accurate shots!
The main area where the FSL blade excels is weight. FSL is a light, stiff blade, and you can control the ball nicely with it. It is one of the OXDOG's lightest blades, at only 68 grams. It has a significant concavity and is substantially pre-bent. It may be easily bent to fit the demands of the player since it has a well-shaped tip and a robust heel. Players who enjoy shooting, especially sweeper shots, have to try it.
OxDog FSL (FASTSHOOTLIGHT) Carbon 2 is the first double carbon blade in history! If you're not a fan of carbon in your blade, you can find an alternative in the OXDOG FSL (FASTSHOOTLIGHT) CARBON with a single carbon, or the OXDOG FSL (FASTSHOOTLIGHT) without carbon at all.
Let's start with the best - the ULTIMATELIGHT HES series. This is the designation of one of the highest classes of sticks from OxDog. ULTIMATELIGHT HES shafts are made of the premium and lightest carbon - HighPressure carbon. To keep the weight as low as possible, these sticks use a lightweight end cap, grip and lightweight blade. The ULTIMATELIGHT sticks are one of the lightest floorball sticks in the world. ULTIMATELIGHT floorball sticks are unrivalled in the world of floorball and they are designed for players who simply wants to be the best!
The OXDOG ULTIMATELIGHT HES 27 CO ROUND MBC2 is the ULTIMATELIGHT HES series' flagship! This is the top stick from OXDOG. The stick is very light; at 96 cm, it is only 181 grams. It is available in 96 and 101 cm lengths with a 27 mm hardness. This shaft, with a 27 mm flex, is still classified as a medium - hard shaft. We would recommend this flex to advanced players. Now you can also find this shaft in the OVAL variant as well.
ULTIMATELIGHT HES sticks are created for extremely fast play. They are the lightest and one of the strongest carbon fiber sticks.
What is best about this stick is its blade. The FSL (FASTSHOOTLIGHT) CARBON 2 blade is a shooting blade and, thanks to its construction, it will help you with wrist, slap, and backhand shots. We recommend it to all players who like sharp and quick shots.
OxDog continues to create its most popular sticks as well. The OXDOG HYPERLIGHT HES 27 BK ROUND MBC is one of the lightest sticks from OxDog and the biggest new addition to the series this year. The floorball stick weighs only 183 grams and can be found in 26, 27, and 29 mm hardnesses. The HYPERLIGHT HES is one of the lightest and most durable sticks on the market. This stick is perfectly balanced! It makes ball control smoother and more fun. The shaft is made of premium carbon fiber. The unique combination of lightweight components is really something special that you won't find anywhere. These floorball sticks are equipped with the aforementioned Optilight Carbon blades.
OxDog is also following up on the very successful Ultralight HES series. Excellent design, instantly recognizable, clean look. This is also this year's Ultralight HES series! The design and colours look elegant, just like you're used to. However, there are a few new features as well. In this series in particular, you can find sticks in white with subtle orange/black accents.
This excellent stick is decorated with an FSL (FASTSHOOTLIGHT) CARBON 2 blade. It is a very modern blade with a state-of-the-art design, to which maximum functionality is added. As you may have already read, this blade fits all types of players. If you're interested and want to see more floorball sticks with this blade, check out all the floorball sticks with the FSL Carbon 2 blade.
If you need a softer stick, OxDog has prepared for you the OXDOG ULTRALIGHT HES 29 WT ROUND MBC2. We have great news for junior players as well. You can find the OXDOG ULTRALIGHT HES 27 WT ROUND MB also in the junior version. This is the 92 cm size. This size is, of course, with higher flex (31 mm), so you don't have to worry about them being too stiff for you. As you can see, Ultralight sticks are really for everyone.
VX HES is the name of the lightweight sticks from OxDog. VX HES shafts are made of premium carbon. While this premium carbon has managed to reduce the weight of the shafts, the weight of the shafts is around +/- 230 grams. On the other hand, their balance and especially their durability are excellent. The VX HES shafts give you perfect balance, a hard and accurate shot and, above all, really high durability. The main difference between this series and other series is the technology: the TRIAD-X shaft - a special shaft profile. This is not a grip profile, but the shape of the shaft between the blade and the grip. The Triad shaft is a triangle-shaped shaft with a molded X shape. According to the manufacturer, this shaped shaft is more durable and offers you more stick speed, which means sharper shots!
As this is a new category of floorball sticks, you can find only 2 sticks here: the OXDOG VX HES 27 MM ROUND MBC and its oval version - the OXDOG VX HES 27 FP OVAL MBC.
Sense HES is the name of the lightweight, 100% carbon sticks from OxDog. The Sense HES is a lightweight stick, although its weight is more in the middle weight category. As the name suggests, this stick is built primarily on HES technology HES (or HIGH ENERGY SHAFT). This is a unique combination of stick technologies that brings you an extremely lightweight, high-strength, and at the same time faster floorball stick than a conventional stick. Here is the new floorball stick OXDOG SENSE HES 29 TB ROUND MB.
This year, you can also find one of the most popular series of sticks at OxDog - especially in hobby sports. The Fusion shaft builds on a solid foundation of years of proven shaft construction, complemented by the AVOX shooting blade. Because these floorball sticks are stalwarts, there's no need for any new technologies, so OxDog is only adding new color combinations. The OXDOG FUSION LIGHT 27 WT OVAL MB relies on an excellent, instantly recognizable, and clean design that will make any player happy.
As an alternative to this stick, OxDog has prepared a stick OXDOG FUSION LIGHT 23 WT OVAL MB. Alternatively, you can take a look at last year's collection, which also included this stick in a different design.
Today we have shown the new collection from OxDog. If you are interested in something but not sure, don't hesitate to contact us via info@efloorball.net , where we will be happy to advise you!