The most complicated floorball equipment is goalie mask. As a professional mask, you must protect you, be comfortable and definitely look great. All these features can be found in the BLINDSAVE goal mask. In addition, this is the first floorball goalie mask on the market that adapts to the shape of the goalie's head. Goalie mask BLINDSAVE meets international standards of quality and safety and has received the International Floorball Federation (IFF) certificate.
For BLINDSAVE helmets, we chose hockey design because we wanted goalkeepers to look aggressive, brave and confident in their masks, just like NHL goalkeepers. In addition to our masks, we have a special eye cage that provides the best visibility.
Goalie mask BLINDSAVE is the first mask in the history of floorball, which has inserts that adjust the shape of the goalkeeper's head! We made it from a material that is very light, easy to change and wash. Finally, we will all have a mask in which we feel great after a while, because the inserts can be easily washed and reused without any defects, as is usually the case with conventional soft inserts.
With new inserts you have to keep in mind one important thing - when you start using the mask at the beginning, the inserts will behave a little hard, but don't worry. When the inserts come into contact with the head and become warm, they become softer and conform to the shape of your head. The more you play and warm up, the better the mask will adjust.
At the same time, BLINDSAVE inserts are safer because the material is not only more durable, but also improved protection. In this case, we are not talking about the bumps of balls, but rather about contact with players and falls, which can be very dangerous for the floorball goalkeeper today. By using new and innovative liner material, we have also reduced mask noise.
The mask is built on a strap system so everyone can customize the mask for themselves. The mask weight is only 950 grams, the cage is in chrome.
Security, comfort, trust. Remember these words when you look at the BLINDSAVE goalie mask.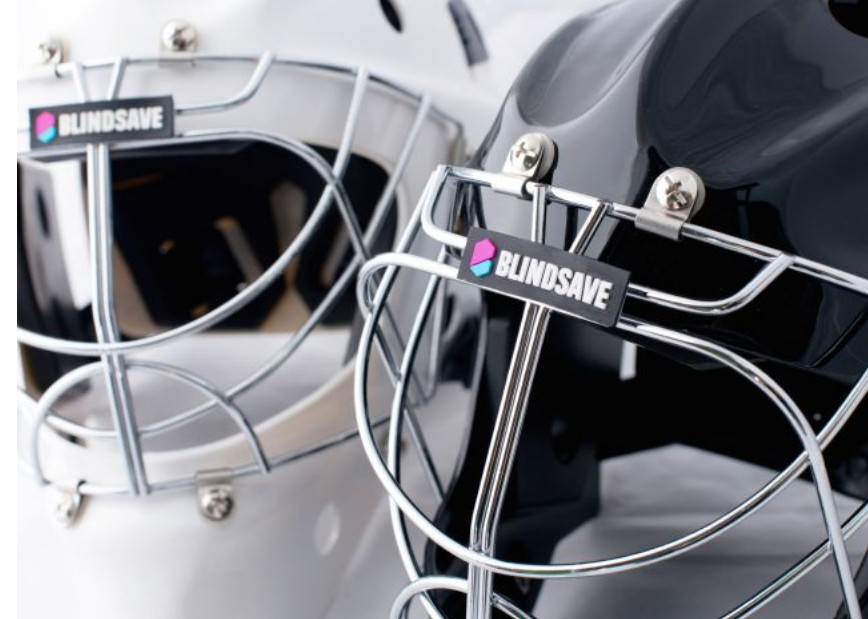 Key properties:
Professional, comfortable BlindSave mask

The grid is IFF certified and can be used in all league competitions.
The first floorball mask on the market that adapts to the shape of the goalkeeper head

universal mask that can grow with you from junior categories to seniors, in other words it is a universal size mask

In the beginning, the padding will appear harder when the padding comes into contact with your skin and gets warm, the padding softens and the mask adapts to the shape of your head
The inner padding can be removed and maintained very well so you won't feel unpleasant smell

The mask has a hockey design that supports its aggressive appearance

Special grille provides a perfect view

New materials reduce mask noise

Helmet weight is 950 g, the grid is chrome