Description
Blade
SONIC BLADE A technical slightly concaved blade (8mm). Tip of the blade is slightly pre-curved - ideal for the attackers using slap shots mostly. And also for that kind of players who like to pass and drible.
It's weight is 75g and it is made of the polyprophylen.

Used technologies
TeXtreme - As the pioneer brand in floorball Unihoc has always been aim-ing to bring the development of the sport, as well as the equip-ment, to new levels. The partnership with TeXtreme® is a major step in the constant search for bringing the most innovative products into the sport. It is a great privilege for Unihoc to collaborate with such a renowned supplier that matches the high demands for carbon fibre materials that are required to take the development of low weight sticks to a new groundbreaking level. Unihoc proudlu presents an innovative range of sticks that are extremely light, but still offer the very best performance qualities on the market.
Feather - actually, this is not a stick technique in its real sense. It is more a setup of the components of a complete stick, which together reduce the total weight of the model enough to create one of our lightest sticks yet. The materials used in the grip band and in the blade are the lightest ones available on the market, and the result is simply Feather Light. To top it off, the Unihoc logos have been embossed into the shaft with a magnificent result. Moulding type: Air Pressure Carbon Fibre.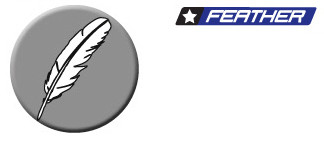 Grip
TeXtreme - very light grip. It absorbs a sweat very well and doesn't slip in the hands