Swanson Full Spectrum Turmeric, Acai & Ginger
This unique herbal blend delivers a wide range of benefits for the whole body, from the GI tract to the joints to the cardiovascular system.
Benefits
A three-in-one tonic for total body wellness
Wide ranging health benefits for total body support
Delivers potent antioxidant activity
Key ingredients
Ginger and turmeric rhizomes - are rich in natural antioxidant compounds that protect tissues throughout the body against free-radical damage.
The bioflavonoids found in acai berry - enhance this antioxidant activity even further, providing outstanding all-natural support for total body wellness.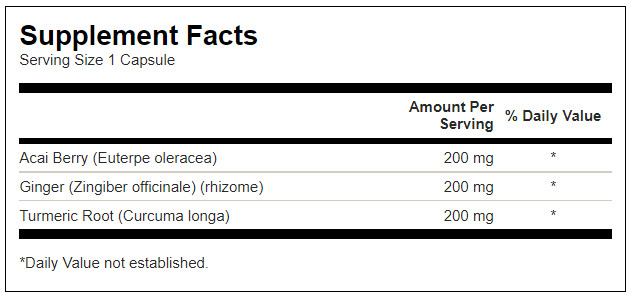 Suggested Use
As a dietary supplement, take one capsule one to two times per day with food and water.
Ingredients
Gelatin • Rice Bran • Rice Extract • Rice Concentrate.