Swanson Optimum Potency Serrazimes
Support of the joints, blood circulation, respiratory function and the immune system.
Benefits
Serrapeptase is a highly proteolytic (digestive protein) enzyme
Has beneficial effects on the health of the joints, circulatory support, respiratory function and immune defence
The most potent systemic enzyme support, according to recent studies
New formula with optimised efficiency
Suitable for vegetarians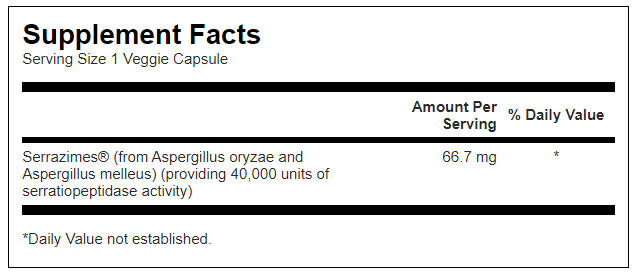 Suggested Use
As a dietary supplement, take one capsule per day with water on an empty stomach at least two hours before or after a meal. For maximum benefit, take one capsule two times per day.
Warning
Do not use if you have a blood coagulation disorder and/or if you are taking any drug that affects blood coagulation such as prescription vitamin K, heparin or warfarin (coumadin). Consult your healthcare provider before use if you are taking prescription medication or if you are pregnant or nursing.
Ingredients
Microcrystalline Cellulose (Plant Fiber) • Hypromellose (Vegetable Capsule) • Maltodextrin.