Swanson Zinc Carnosine (PepZin GI)
Zinc and L-carnosine chelated for protection against gastric acid.
Benefits
Fortifies the stomach mucosal lining
Unique patented formula
Zinc & l-carnosine chelated to survive stomach acid
Supports microbial balance in the stomach
Key ingredient
PepZin GI - is a combination of the mineral zinc and the amino peptide L-carnosine that provides protection to all areas of the stomach.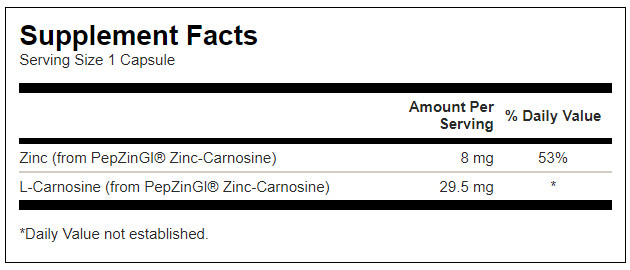 Suggested Use
As a dietary supplement, take one capsule two to three times per day with water.
Warning
For adults only. Consult your physician before using this or any product if you are pregnant or nursing, taking medication or have a medical condition. Keep out of reach of children. Do not use if seal is broken. Store in a cool, dry place.
Ingredients
Microcrystalline Cellulose (Plant Fiber) • Gelatin • Magnesium Stearate.