Unihoc has prepared several innovations into a new season 2016/2017. We've prepared a short summary and picked up four the most interesting new products - mainly the Unihoc EPIC blade.
EPIC series
The EPIC series is a new edition of the Unihoc sticks bringing the perfect choice for the most of player types. The EPIC blade is very easily playable with its optimal proportion for passing and shooting. It gives the opportunity to fit to many types of players, thanks to its versatility. The stick design is modern and elegant, the glowing Unihoc EPIC logo at the heart of the stick. All in all, we are certain of having an EPIC season! eFloorball can only recommend these sticks, they are light and firm, they have a nice design and you can buy them for an affordable price.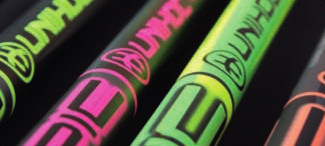 EPIC blade
This blade had a huge expectations when Unihoc revealed the photos. Did they fulfil? We can say YES according our tests and feedback from the customers. Nice design, middle concavity and great shape of the blade are leading features followed by the firm heel and well-formed tip. Unihoc did a great job at this blade. This blade is suitable for every kind of players - technical, shooters, those who like accurate passes... Additionally, the blade lasts pretty long and doesn't soften, so you don't need to change it often.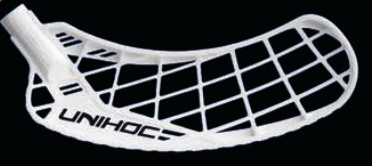 TeXtreme Curve
Unihoc came up with an idea - players like curved shafts and light sticks - "What if we would combine a successful series TeXtreme together with the Curve technology?" And it happened. The lightest Curved sticks in the world have been created - that is Unihoc TeXtreme Curve. And what is the most remarkable feature of these sticks? Its balance! It is perfectly tuned at these extremely (or textremly? :-)) light sticks.
U4 STL floorball shoes
Previous series of the Unihoc floorball shoes did not belong among the best ones. Even Unihoc knew it, so they focused on the new shoes that would rock and meet the highest player's exceptations - Speed and explosiveness. Developers met these exceptations and also they managed to create a perfect design of the shoes. But it is not only about the design, but also about the comfort these shoes can provide. Unihoc has not been producing just the great sticks, but also the shoes :-)