Description
The EPIC blade is an ultra-modern floorball blade with state-of-the-art design combined with top class functionality. The frame has a classic Unihoc shape and with its clearly marked step between the frame and the bars it offers great ball control and improved shot release.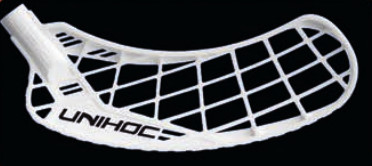 The concavity runs all the way from the heel to the top of the blade, but it has been slightly decreased in depth compared to the UNITY blade.
This is a blade that will suit most player types well, as it offers both a great passing game as well as great shooting qualities.
Variant Feather Light colors: white, blue, neon yellow and neon orange / medium