The upcoming 2023/2024 season is upon us and Unihoc has a lot of exciting news in store for you!
Unihoc has chosen BRIGHT ROYAL BLUE as this season's main colour to brighten up the court and bring a new look to the style of floorball. Blue is the main protagonist of this season and represents a new wave of creativity and passion. Symbolizing calm and stability, Blue is reflected in all products to support your game and bring you inner confidence during every game. Its elegant hue will remind you of the strength of your team and the importance of working together on the field.
One of this season's main innovations is a completely new line of sticks called PRODIGY. This is a line of clubs with a focus on children and juniors. There are clubs from size 55 to 92cm. Unihoc has now decided to put top blades like Epic and Unilite on these clubs as well.
The other major news this season is the upgrade of the classic Carbskin series, where for the first time there are also Slim clubs, i.e. clubs with a thinner shaft. There is also great news for junior players, as the Carbskin sticks are also available in 87 and 92 cm.
If you're eager to discover all the news from the upcoming season and find out why it's going to be truly amazing, I encourage you to continue reading this article. There is a lot of information hidden in it that will definitely get you excited and ready for the best floorball season ever!
So let's explore all this news together and get ready for another great season with Unihoc!
The PRODIGY Series from Unihoc is an innovative line of floorball sticks designed for the youngest players who dream of a stellar future in the world of floorball. With the unique PRODIGY PERFORMANCE CONCEPT, this series offers a wide range of lengths that are precisely tailored to the needs and abilities of young players.
The PRODIGY Series sticks are high quality children's and junior floorball sticks. Their shafts are made of 100% fiberglass, which guarantees high durability and strength. Due to the natural lightness and maneuverability of these sticks, young players can easily focus on improving their technical skills. Despite their light weight, PRODIGY Series shafts also offer precise shot control and excellent ball feel, which is crucial for the development of young players. The clubs in this series are fitted with the top blades Epic and Unilite.
The stick is made especially for the smallest floorball players. EPIC YOUNGSTER PRODIGY 36 is a versatile stick designed for basic, advanced and action game training for children. The stick is made of a special type of fiberglass. High emphasis is placed on the gradual folding and direction of the individual layers to make it resistant to the aforementioned "chops" and impacts.
Another outstanding feature of these sticks is the blade. The stick is fitted with a professional blade, which is also used by Swiss and Czech players. This is not a common practice in the floorball market, because most manufacturers put the most ordinary and cheapest blades on children's sticks. But the developers from Unihoc took a different approach and put the best they could on children's sticks.
Unihoc thought about the smallest floorball talents and developed the Unihoc NINO PRODIGY 36 neon orange with a length of 55 cm. This floorball stick is equipped with Nino blade. The Unihoc Nino blades are lightweight with a small size to allow younger players good ball control.
The Strong composite shafts with high quality fiberglass are the key in the COMPOSITE SERIES. These floorball shafts can withstand aggressive play, making them an ideal option for hobby sports. Even though these clubs are primarily designed for hobby players, they will find many fans among professional players due to their features.
The new for 2023/2024 is the fitting of these sticks with Epic top blades. These sticks are dominated by the black/white combination.
The flagship of the COMPOSITE SERIES is this stick! It comes in 92, 96 and 100 cm lengths. Its weight in the 96 cm size is 245 grams. The stick is equipped with the aforementioned new Epic blade and you will find a Basic wrap on it. The cane is made of 23% carbon / 77% fiberglass.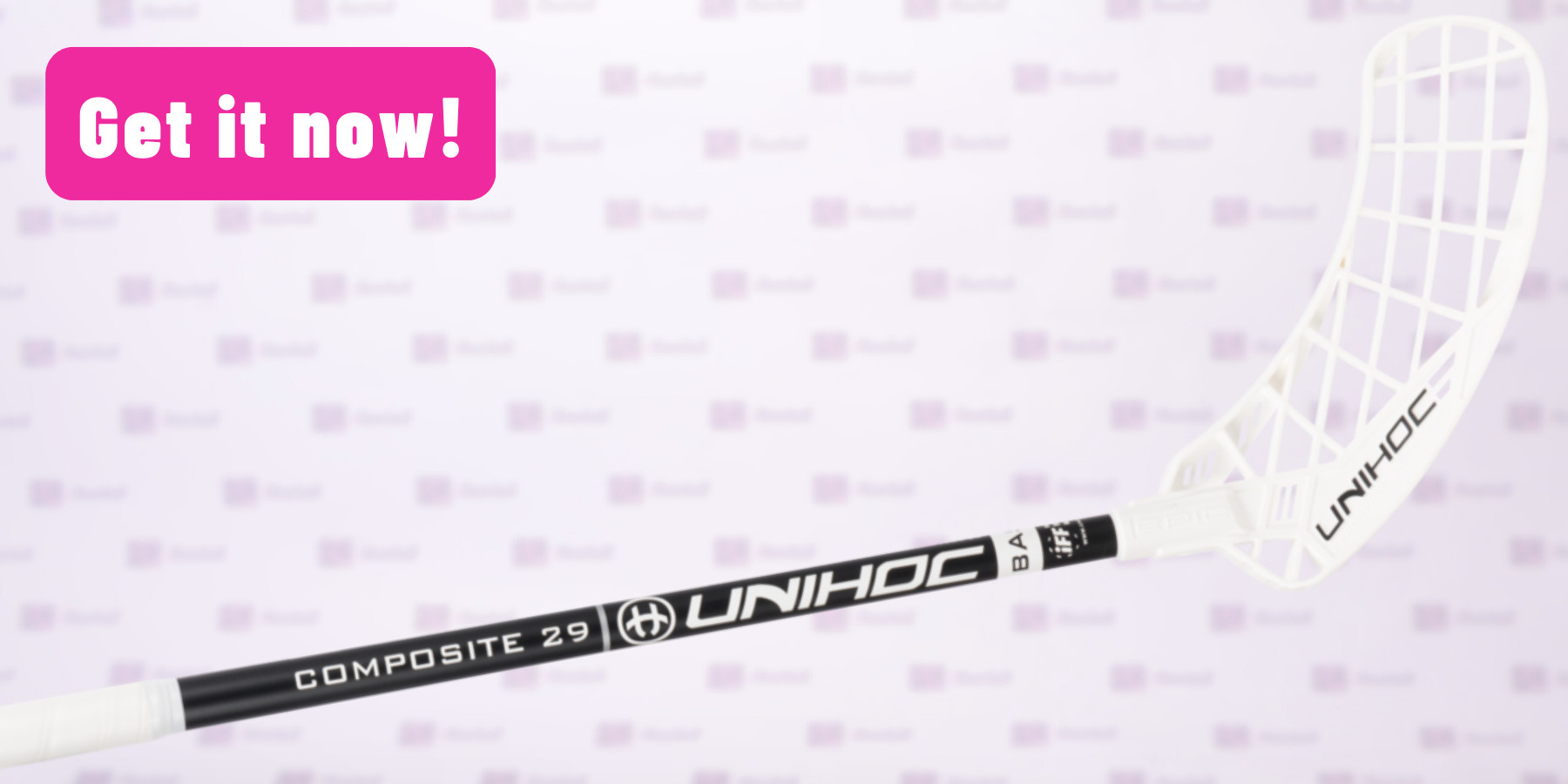 For those who like harder sticks there is the Unihoc EPIC COMPOSITE 26 black/white with a hardness of 26 mm.
The Superskin series includes completely rebuilt shafts. Superskin is based on SBT - SOLID BALANCE TECHNOLOGY. It is basically material optimization to ensure perfect balance, strength and durability of the shaft. Unihoc took their sticks and broke them down into their individual fibers and then put them together in a new way. This results in 100% balanced clubs that are both strong and lightweight. Unihoc has implemented this folding of the individual layers of material into different types of clubs. In the Superskin group you will find the following types of sticks:
For those who want a carbon stick but are worried that 100% is too fragile, Unihoc has put together sticks in the REGULAR category If you'd like to see the others, check out all the REGULAR sticks. We've picked out the Unihoc EPIC SUPERSKIN REG 26 white/blue]. Thanks to the versatility of the Epic blade, this putter will suit all types of players, both those who like to play with the ball and want to make accurate passes and those who like a variety of shooting options. Add to that the lightweight SUPERSKIN wrap and a 220g club weight, and you have a super stick that will help you in any situation!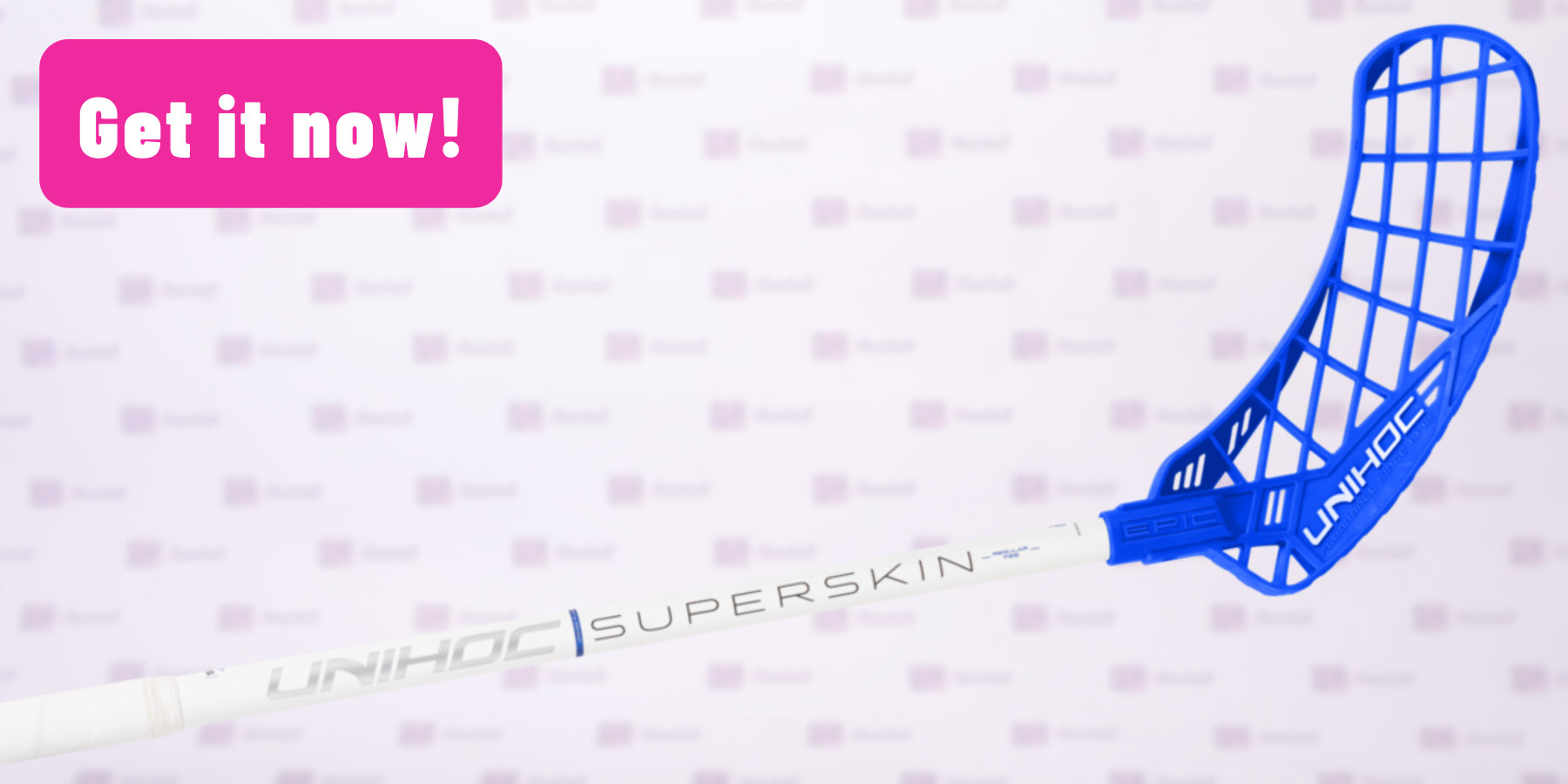 If you want a Top stick made of 100% carbon, the Unihoc UNILITE SUPERSKIN MAX TITAN 26 black/blue is the obvious choice.
Last season Unihoc developed a new type of shaft - floorball with a thinner grip - SUPERSKIN - SLIM. Most probably they reacted to the thinner grip of the OxDog floorball sticks. If you want to see the OxDog sticks, click here. These slim grips have proven to be very popular and so will now be included in the permanent Unihoc range of clubs.
The stick has a reduced diameter of only 23.8mm (compared to 25.2mm), giving a thinner grip profile and suiting players who prefer a slimmer grip. It is a shaft with a 95% carbon fibre content, creating a very lightweight club with good balance. It has many similar features to the SUPERSKIN PRO, but with a thinner grip profile. The total weight of the 96cm stick is around 206 grams depending on the blade choice. Interested in a floorball stick with the same grip as the OxDog sticks, check out Unihoc UNILITE SUPERSKIN SLIM 29 white/red
A unique series of clubs for the current 2023/2024 season with exclusive technology not found in any other Unihoc collection. This Special STIFF Series includes a unique extra hard floorball stick with 24mm flex. With this model, Unihoc is testing the current market to see if this extra hard 24mm floorball stick will even catch on with floorball fans.
CARBSKIN® is a new way of folding carbon fibre that pushes the benchmark of desirable lightweight rod performance to a whole new level. By using a new construction with a modern composition, combined with a thinner material, the strength and especially the durability of these poles have been improved. Never before have carbon poles had such low weight, excellent balance and above all high durability as now. CARBSKIN® is not about compromising, you find all the necessary features in one stick at the same time! The weight of these sticks is under 200g.
This cane is decorated with Epic blade. This is a very modern blade with a state-of-the-art design to which maximum functionality is added. The Unihoc EPIC CARBSKIN FL 29 blue is available in 96 and 100 cm sizes. For those who love the oval shape of the handle, there is Unihoc EPIC CARBSKIN FL 29 Oval blue.
A major change in the Carbskin series is the introduction of models with SLIM grip. For the first time ever, these Slim models are also for junior players. You can find them in lengths 87 cm and 92 cm. The Carbskin Slim clubs for this season are fitted with the latest Unilite blade.
The Carbskin sticks are available in two hardnesses: 26 mm and 29 mm. These floorball sticks are designed to fit perfectly in the hand and provide maximum ball control. This makes it easy to execute technical feints, quick changes of direction and precise passes. The black and white colour combination adds elegance to the sticks. The top model is Unihoc UNILITE CARBSKIN SLIM TITAN 26 white.
An important feature of this SLIM category is the strength and flexibility of the floorball. SLIM shafts have a several mm thinner grip profile than the regular Unihoc shaft, which results in excellent flexibility and therefore higher club speed when shooting.Another important feature is the ergonomic design of SLIM shafts. These floorball sticks are designed to fit perfectly in the hand and provide maximum ball control. This makes it easy to execute technical feints, quick changes of direction and precise passes.
Goalie equipment is an integral part of the sport. Unihoc has not forgotten about goalkeepers this year either and has prepared several news for them! The latest range of goalkeeping products is designed to maximise the performance and comfort of goalkeepers on the floorball court.
Unihoc has relied on the proven ALPHA collection, but this year offers a new colour option. This is a high-end series aimed primarily at top goalkeepers.
An integral part of the goalkeeping equipment is the mask. Unihoc has introduced 3 new goalie mask models to this year's collection. The main color of this season BRIGHT ROYAL BLUE is not only part of the hockey balls but also the masks.
Unihoc Alpha are interchangeable knee pads. These pads are the perfect choice for any floorball player who wants to be protected and comfortable during the game. Unihoc Alpha knee pads are made with quality and safety in mind. They are designed to provide optimal protection for your knees from bumps or falls during a floorball game. Their interchangeable design also allows you to customize the pads to your needs and preferences. Unihoc has launched them in two variations:
Here Unihoc was inspired by the brand BlindSave, which is the only brand to offer interchangeable protectors with different hardnesses. Podívat se můžeš zde.
Today we have shown you the new collection from Unihoc. If you are interested but not sure, don't hesitate to contact us at  info@efloorball.net , where we will be happy to advise you and together we will prepare for the new season! ;-)